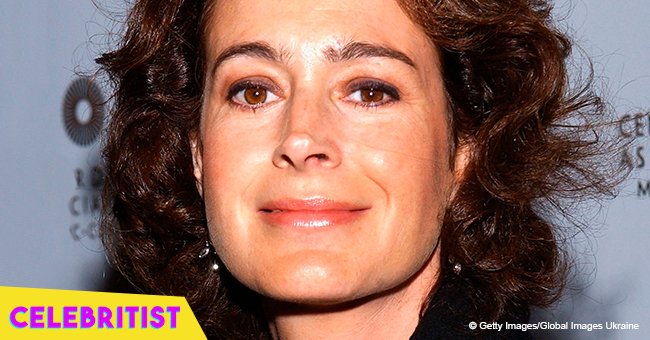 'Blade Runner' actress Sean Young reportedly wanted for questioning in burglary
Actress Sean Young has been accused of burglary. Reports suggest the 'Blade Runner' star stole equipment from a company she was fired from. The actress has released a statement after authorities sought her for questioning.
'Blade Runner' star Sean Young is at the center of burglary allegations brought up against her last week. The 58-year-old actress reportedly broke into a production office in Astoria, Queens on Thursday stealing two Apple laptops and video production software worth $12,000.
Video surveillance footage revealed Young along with an unidentified male loading up an SUV with the stolen equipment. Curiously, the actress appeared calm and didn't seem to be in a rush as she and her companion loaded the alleged stolen goods into the vehicle.
The establishment Young stole from was the production office for the film 'Charlie Boy' which originally employed her as the director. However, according to the film's star and co-writer Greg Kritikos and executive producer Dominick Martini, Young was fired after a few weeks due to problems in the workplace. The directorial job would have been Young's debut, but she was soon replaced by Timothy Hines.
Following the burglary, speculation emerged that Young's motive for stealing the equipment was revenge, to which Kritikos responded with,
"Whatever she's doing, she took property that did not belong to her."
"None of us have any idea what went through that person's head. … If you're asking me, did she just want to hurt us? What would you think?"
Authorities sought Young for questioning after the incident. On Friday, Kritikos also messaged her to contact him so they could handle the issue "wisely." Other members of the production also tried to reach out to the actress who did not respond.
Later that day, in response to the allegations, Young released a statement to People saying there was a mix-up.
"I was scheduled to retrieve my belongings from an apartment where I had been previously staying while working together with [Charlie Boy] Director Timothy Hines and Producer Dominick Martini. I was expected and had confirmed my expected arrival with the building's owner. When I arrived nobody was there to receive me but the door was unlocked and I assumed it had been left open so that I could pick up my belongings."
"I gathered what I believed to be my property but later discovered I was mistaken. I have contacted Dominick Martini to arrange for the 2 laptops to be returned and to pick up my 2 laptops at their earliest convenience."
Young also insisted she had not been contacted by authorities or any lawyers.
Young has registered erratic behavior in the past. In 2012, she was arrested outside an Oscar's party for slapping a security guard. In 1990, she was hired and then fired from the film 'Dick Tracy.' She also accused the film's star, Warren Beatty for ruining her career after she refused his advances. In 2015, way before the '#MeToo' movement emerged, she alluded to this when she opened up about an entertainment mogul who made a pass at her in her younger years. She claimed her refusal led to her career's decline. Beatty has denied the allegations.
Ironically, Young was also sued for harassment in 1989 by her co-star in the film 'The Boost', James Woods. The case was settled out of court with the actress denying the allegations.
Young's career peaked in the 80's with her memorable roles in 'Blade Runner,' 'Stripes,' 'No Way Out,' and 'Wall Street.' In the 90's she made waves as Jim Carrey's nemesis, Captain Winkie-havin' in 'Ace Ventura.' In recent decades, she laid low and went into 'self-retirement.' However, she returned to the limelight recently in TNT's 'The Alienist' starring Dakota Fanning.
Please fill in your e-mail so we can share with you our top stories!