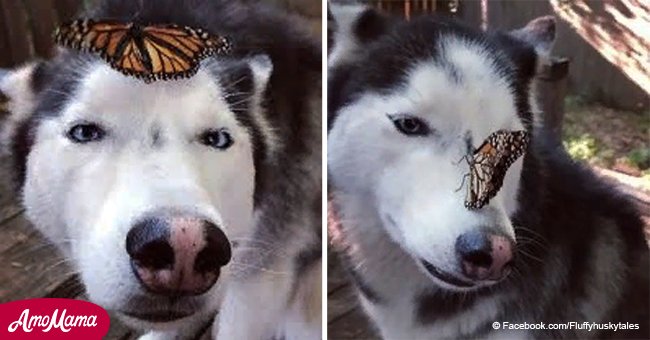 Husky's adorable reaction when a butterfly lands on her nose
Footage shows the moment a husky froze in place when a butterfly landed on her nose, and it's cute.
The husky named Cymber is making the whole world laugh. She was relaxing on the back deck when a Monarch butterfly decided to take a rest on top of her nose. The adorable moment was captured on video.
"A butterfly landed on Cymber and she didn't know what to do. I love her!" said the post on the Fluffly Husky Tales Facebook page recently.
Cymber looked hypnotized by the butterfly that was flapping its wings. She was a bit cross-eyed as the winged visitor gently fluttered in her nose.
Follow us on our Twitter account @amomama_usa to learn more.
Cymber eventually has had enough. She ran her paw across her head to shoo the butterfly away.
In the video, the husky can be seen watching her new friend fly away across her backyard.
Since the video was posted to Facebook, it has been viewed more than 42 million times. The clip has amassed more than 1.2 million shares and more than 513,000 likes. A lot of netizens also placed their thoughts via comments.
Jina Wilkinson wrote: "Monarch butterflies are rarely seen anymore, so this was a blessing for both of you."
"That is the sweetest thing I've seen in a long time!" commented Lynda Zeus Juice Ninos.
"I love that even when she finally goes to take the butterfly off with her paw she so gentle about it she's such a sweet gentle sweetie pie," Dawn Joseph chimed in.
Huskies are known for being energetic and athletic. They normally have a thick double coat that can be gray, black, copper red, or white.
Although their eyes may also be brown, green, blue, or yellow, they are typically pale blue. They have been the subject of several motion pictures such as Balto, Iron Will, Snow Dogs, and Eight Below.
Please fill in your e-mail so we can share with you our top stories!