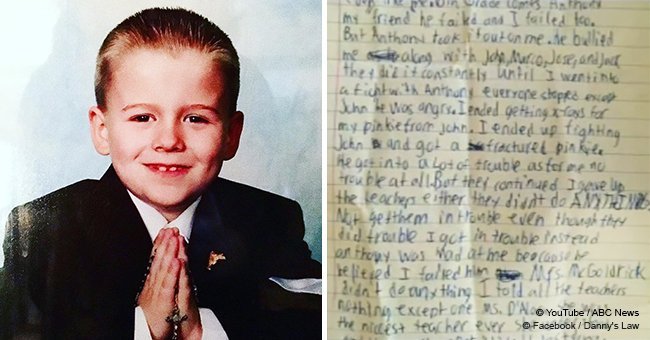 13-year-old boy writes heartbreaking letter, then kills himself
A 13-year-old boy named Danny Fitzpatrick took his own life at his Staten Island home, leaving a final note telling his experience of being bullied in school.
Danny was found by his then-17-year-old sister, Kristen Fitzpatrick on August 11, 2016, in their attic. According to CBS New York, the boy hung himself after he was fed up with being bullied by his classmates.
The hand-written note described how Danny was constantly bullied by five boys from his grade at Holy Angels Catholic Academy in Bay Ridge, Brooklyn.
The boy added that the teachers did not do anything about the bullying.
Follow us on Twitter at AmoMama USA for more stories and updates.
THE REASON BEHIND THE BOY'S DECISION
The five boys allegedly teased Danny because of his weight and his grades. He was also picked on because according to the alleged bullies, Danny wasn't as "tough" compared to all the other boys.
"I gave up," Danny wrote. "The teachers… they didn't do anything."
The boy's parents, Maureen and Daniel Fitzpatrick Sr., were devastated when they learned about the reason why their son took his own life.
SHARING DANNY'S STORY
Instead of letting the grief overpower them, the couple decided to fight for Danny and share his story, hoping that no other kid would ever experience what he went through.
In a lengthy video on Facebook, Daniel spoke up and revealed how his son "was a kind, gentle little soul" and "didn't have a mean bone in his body."
"No child should have to go through what my son went through," he added.
Danny's parents also decided to share his two-page suicide note with the public.
THE SCHOOL'S SIDE OF THE STORY
As for the school, the Brooklyn Archdiocese spokeswoman, Carolyn Erstad, claimed that the Holy Angels Catholic Academy is serious when it comes to dealing with the issue of bullying.
The spokeswoman suggested that Danny's complaints were heard and the school did everything they could to help Daniel, including the principal.
TAKING LEGAL ACTION
Danny's parents were not pleased by the school's response and had a message to say to the parents of the other kids.
"You get to hold your children every night and day for the rest of your lives and their natural lives. I don't get that anymore," said Danny's father.
Months after Danny's passing, his parents decided to file a legal case against the school in the hope of getting justice for their son, as well as all the other kids who took their own lives because of school bullying.
The National Suicide Prevention Lifeline is 1-800-273-8255. Other international suicide helplines can be found at befrienders.org.
Please fill in your e-mail so we can share with you our top stories!