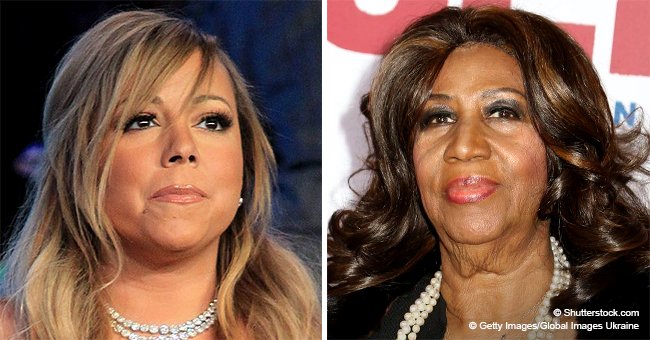 Mariah Carey & other celebrities send prayers to 'gravely ill' Aretha Franklin

Mariah Carey led the way in paying tribute to Aretha Franklin, who is "gravely ill" as reported by her family members last Sunday night.
Carey tweeted a photo of the 76-year-old diva when she was much younger, saying she was "praying for the 'Queen of Soul'". The singer has been battling cancer in her home in Detroit, surrounded by her closest friends and family. While they are hoping for the best, they are reportedly "preparing to say goodbye" to their beloved Aretha
Franklin's last performance was at Elton John's AIDS Foundation gala in New York City last November 2017, where she already looked ill. Now, Daily Mail UK reports that Aretha is down to 86 pounds after her illness has gotten worse.
After Mariah expressed her prayers for the Queen of Soul, other artists followed suit, including rapper-songwriter Missy Elliot, singer-actress Ciara, talk show host Andy Cohen, rapper-actor Jermain Dupri, Fifty Shades franchise author E.L. James, screenwriter-director Mark Frost, sports writer Jemele Hill, and actress Jackee Harry among many others.
It was just last year when the iconic singer announced her retirement, saying she would only be performing at select events.
"I must tell you I am retiring this year. This will be my last year. I will be recording, but this will be my last year in concert. This is it."
While she recently released an album last September, she made sure to go on one last tour which included only a select number of cities. Aretha spent 56 long years as a singer and songwriter, which is why she remains well-loved. Now that she has fallen sick, many are expressing their sadness and sympathies to those whom Aretha touched, urging everyone to stay strong despite the terrible news.
Franklin was born in Memphis, Tennessee in 1942. Her father was a pastor and civil rights activist named C.L. Franklin, who moved from Memphis to Detroit when Aretha was just 2, which is why the singer continues to stay in Detroit up until today. It was there that she honed her skills, and eventually became the holder of the third-most Grammy Awards for any female artist in history.
Please fill in your e-mail so we can share with you our top stories!