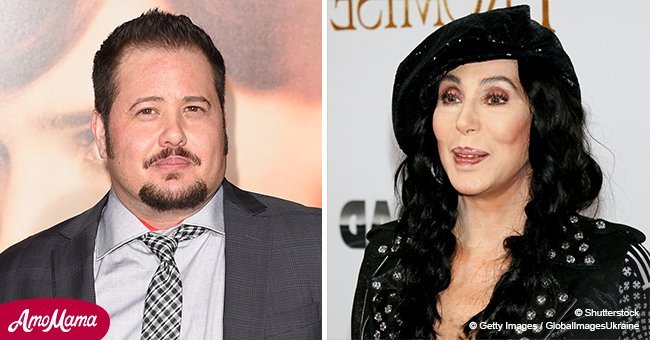 Cher's son, 49, is a handsome transgender actor
At a young age, Cher's then-daughter Chastity thought she was a lesbian, but things turned out to be a little bit more complicated than that.
Chaz Bono, 49, is the only child of Cher and Sonny Bono. He has been famous for decades as a celebrity kid, but surprised television fans with his pro-Trump character, Gary K. Longstreet, on "American Horror Story: Cult."
Although it was his first time headlining, Chaz is used to being somewhat in the spotlight.
Chaz was born female and named Chastity Sun Bono on March 4, 1969. According to Life and Style, Bono came out as a lesbian at the age of 18 due to tabloid press interference.
Bono started transitioning into a man at the age of 39 but it wasn't until 2010 that his legal gender and name were also changed to correspond.
In his 1998 book "Family Outing: A Guide to the Coming Out Process for Gays, Lesbians, and Their Families" Chaz admitted that Cher herself "went ballistic" when he first came out as gay. It's pretty ironic that a gay icon such as herself would react that way.
Bono wrote in "Family Outing":
"...as a child, I always felt there was something different about me. I'd look at other girls my age and feel perplexed by their obvious interest in the latest fashion, which boy in class was the cutest, and who looked the most like cover girl Christie Brinkley. When I was 13, I finally found a name for exactly how I was different. I realized I was gay."
Bono's experience was documented in "Becoming Chaz" and was screened at the 2011 Sundance Film Festival and later made its television debut on the Oprah Winfrey Network
Cher later accepted and embraced Chaz's sexual orientation. The singer even became an outspoken LGBTQ activist after that.
His first acting gig began in 1972 as Chastity in the "Sonny & Cher Comedy Hour."
Chaz is one of the first transgender stars in Hollywood and is also a staunch LGBTQ advocate. Bono made history as the first transgender person to compete on "Dancing with the Stars" in 2011.
In 2016, he appeared on five episodes of "American Horror Story: Roanoke." He played Lot Polk/Brian Wells.
He also played Reverend Rydale on "The Bold and the Beautiful" in that same year, as well as appearing in three episodes of "Where the Bears are."
Fans will see him soon in Adi Shankar's "Gods and Secrets" scheduled for release later this year.
Please fill in your e-mail so we can share with you our top stories!