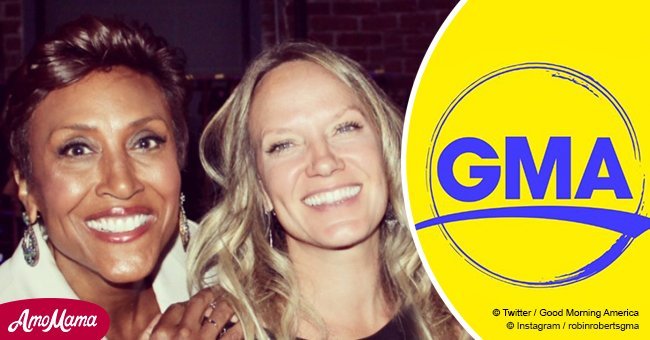 Details of the sweet relationship between 'GMA' star Robin Roberts and longtime girlfriend
The Good Morning America host shared that her girlfriend doesn't like being the center of attention during a 2014 interview.
Robin Roberts came out in 2014 through a Facebook post. She also opened up about her long-term girlfriend, Amber Laign, in a tell-all interview with Ellen DeGeneres.
Roberts spoke candidly about her relationship with Laign, sharing that they met on a blind date and things escalated quickly in their relationship from that moment on.
She was diagnosed with myelodysplastic syndrome, and Laign was one of the few people who stayed by her side as she came to terms with it.
After the diagnosis, the host had to take a leave of absence on "Good Morning America" to undergo a bone marrow transplant, which was done successfully.
Soon afterwards, Roberts also released her memoir, titled "Everybody's Got Something," wherein she talked about her journey to healing, as well as the people who were there for her every step of the way as she went through such a tough time.
Roberts has written a lot about Laign in the memoir, something that DeGeneres was interested to note given Laign's preference of being out of the spotlight.
Even while Roberts was being interviewed on the popular talk show, Laign was at home, refusing to appear on television.
The two have had a conversation about Laign wanting to keep her private life as far from the limelight as possible.
Despite Laign's love of the quiet life, she has held onto Roberts' hand permanently during the long journey she faced after her diagnosis.
The "Good Morning America" host took the opportunity to thank her nurses and doctors, as well as her sister who donated the bone marrow that was used for her transplant.
Furthermore, Roberts praised DeGeneres for opening the door for other people to be brave enough to reveal their true sexuality.
"You have helped a lot of people like myself to have that discussion with their families because you are so well respected and loved and it's really helped a lot of us and I thank you for that," she said.
As for her health, Roberts said she is "strong like bull." She continued to say that she is thankful and very happy.
Today, the couple have been together for a wonderful 15 years, and are still going strong, supporting each other at every turn.
Please fill in your e-mail so we can share with you our top stories!