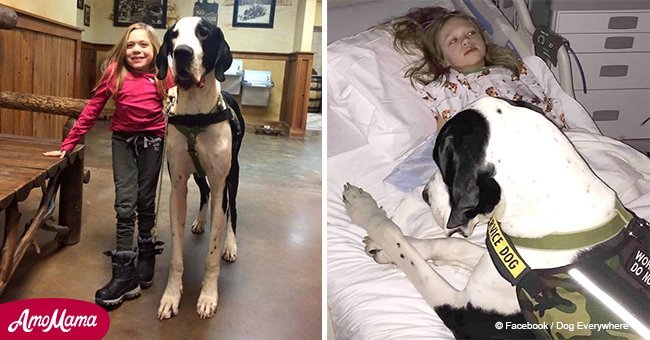 Massive dog helps guide 11-year-old with rare genetic condition
A Great Dane named George was pampered for a day for helping 11-year-old Bella to walk as her service dog.
Bark uploaded a video on its official YouTube channel showing how they treated the dog with amazing rewards as a part of their segment, 'Dog's Best Day.'
The source informed that Bella is suffering from a rare progressive disorder called Morquio Syndrome, which affects her mobility.
So to help Bella move about on her own, her mother decided that she needed a service animal. Just then Bella fell in love with her new best friend, George, on the day she was volunteering at Service Dog Project, Inc.
Follow us on Twitter to learn more.
The two of them have been close ever since that day, and are almost inseparable from one another. In the video uploaded by Bark, Bella admits, "I could tell he needed me and I needed him."
Bella explained that she felt amazing walking with George for the first time because he hadn't done so by herself in a long time.
Speaking about George's 'Dog's Best Day,' Bella also stated that the Great Dane absolutely deserves this day because "he works extremely hard" and makes her "more independent" than she ever could be.
As part of George's special reward for all his service, he first receives a hero's welcome at the Fairmont Copley Plaza. Follow this, his 'best day ever' officially begins.
George's first reward is a delicious burger feast at Wahlburgers. The manager of the outlet, Ashley Kelley, brings him a tray full of burgers saying, "We hear you love burgers and these are all just for you."
After munching on the tasty food, George next gets to play out in the snow, which is one of his favorite activities.
George and Bella return to Boston after some fun time in the snow. Back in the city, George gets served tasty treat at Polka Dog Bakery.
Finally, they return to the Fairmont Copley Plaza, where a special suite filled with toys is prepared for him. After playing with the toys to his heart's desire, the Great Dane finally got to call it a day by sleeping in its own luxurious mattress.
Please fill in your e-mail so we can share with you our top stories!