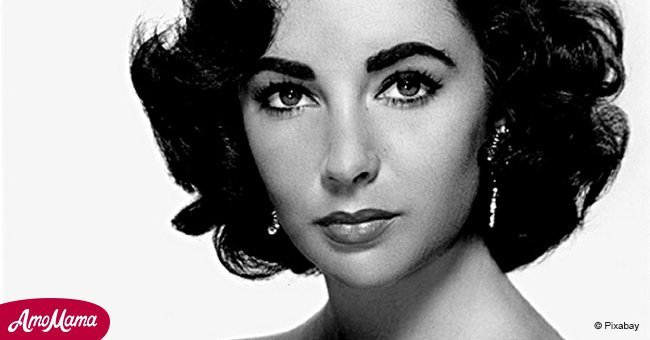 Elizabeth Taylor's granddaughter Naomi looks like an exact 'reincarnation' of iconic granny

The beautiful actress was beloved by movie fans, and idolized by many. But to some special people in her life, she was just a grandmother.
In a rare interview in 2014, 42-year-old fashion stylist Naomi deLuce Wilding opened up about what it was like to grow up with one of the world's most famous actresses: her grandmother, Elizabeth Taylor.
DeLuce Wilding is one of Taylor's ten grandchildren through her three children, Liza Todd Burton, Michael Wilding Jr., and Christopher Edward Wilding.
The actress died in March, 2011, at the age of 79.
DeLuce Wilding said that her iconic grandmother was a major inspiration in her life, and shared that she also encouraged her to be an ambitious woman. She lived with Taylor in her Los Angeles home for nearly three years.
The fashion stylist said that she doesn't think she associated the Elizabeth Taylor she knew with the movie star everyone else saw. To her, she was just her "granny."
"We were very close, and she had a strong influence on my life. She convinced me to move to Los Angeles. She introduced me to [writer] Ingrid Sischy, who suggested I try fashion styling."
DeLuce Wilding, who is married to the gallerist Anthony Cran, added that Taylor hosted her wedding reception. In 1991 when Taylor married her seventh husband, Larry Forentsky, DeLuce Wilding was a bridesmaid.
"More than anything, my grandmother gave me confidence. She made me feel like I could do anything," she said.
DeLuce Wilding is the daughter of Michael Howard Wilding: the eldest of Taylor's two children with Michael Wilding (her second out of seven husbands).
When Taylor passed away due to congestive heart failure, DeLuce Wilding was left with many remarkable memories of her grandmother.
DeLuce Wilding and her younger sister, Laela Wilding, were raised in Wales but would visit Taylor twice per year in Los Angeles and stay in her home. As a child, she described living with her grandmother as a fairy-tale.
DeLuce Wilding revealed that Taylor had a wardrobe full of clothing from all the high-end designers such as Valentino and Versace. Her grandmother had armfuls of clothing and also fine jewelry.
The legendary actress' interest in clothing inspired her to study fashion design at the renowned Central Saint Martins.
She then moved to New York and set up a small design studio. However, her studio was robbed in 1999 and much of the jewelry her grandmother had given her was taken in the robbery.
She became utterly disheartened after that, and Taylor convinced her to come live in Los Angeles at her home. While there, DeLuce Wilding began her career as a stylist. She frequently borrowed things from her grandmother's closet for shoots.
During that time, DeLuce Wilding met her future husband, Cran. She revealed that her grandmother flirted Cran like crazy. According to her, Taylor believed in the power of love and wasn't afraid of being hurt.
Today, DeLuce Wilding and her husband run the Wilding Cran Gallery in Los Angeles.
Please fill in your e-mail so we can share with you our top stories!