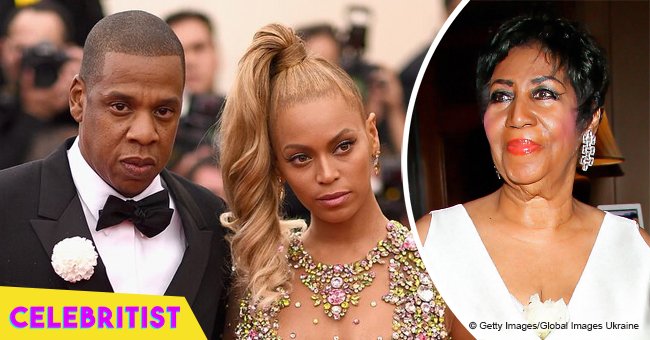 Beyoncé and Jay-Z dedicate concert to Aretha Franklin amid reports she's 'gravelly ill'
Even though Beyoncé and her husband Jay-Z have been traveling the world with their "On the Run II" tour, one of the most special and touching concerts took place in Detroit.
In the presentation held at Ford Field on August 13, Beyoncé took her time to dedicate it to Aretha Franklin also known as the Queen of Soul, reported Detroit Free Press.
The pop artist surprised the audience early on the show, so the more than 40,000 people who attended were aware of it from the very beginning. Beyoncé confessed that they loved Aretha and added that she was grateful for her beautiful music.
DJ Khaled, who has opened the couple's concerts during their North American leg, also paid his tribute to Aretha when he played her worldwide known song "Respect."
The fact that captured more attention about those tributes was that the Ford Field is located around the corner from Aretha Franklin Way, a street in Detroit that was named after the singer last summer.
As Detroit Free Press described it, Beyoncé dedication marked a "cross-generational" show of support as the most important female singer of the moment paid her tribute to the most prominent female singer in the history of soul and R&B.
ARETHA FRANKLIN'S HEALTH
On August 13, it was reported by Detroit Free Press that the 76-year-old Detroit soul singer was very ill and has been under care at her home in Detroit's Riverfront Towers.
Several celebrities have taken their time to send their prayers and words of support to Aretha, including Mariah Carey, Chance the Rapper, Missy Elliott, Ciara, and so on.
WHY IS ARETHA FRANKLIN SO IMPORTANT IN THE MUSIC INDUSTRY?
Apart from recording a total of 112 charted singles on Billboard, including 77 Hot 100 entries, 17 top ten pop singles, 100 R&B entries, and twenty number-one R&B singles, what made her the most charted female artist in the chart's history, she has won 18 Grammy Awards.
Aretha is one of the best-selling musical artists of all time with more than 75 million records worldwide, and she was inducted into the Rock and Roll Hall of Fame in 1987, becoming the first woman to be inducted.
Please fill in your e-mail so we can share with you our top stories!