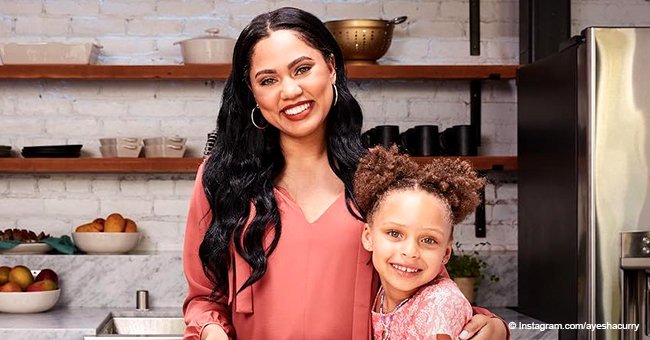 Ayesha Curry gets emotional sharing pic of daughter Riley's first day at school

Steph and Ayesha curry's eldest daughter Riley is back in school and it's making her mother cry. A recent photo posted by Ayesha reveals a bittersweet moment as Riley ventures into grade 1.
Ayesha Curry just welcomed a brand new baby with her husband Steph Curry and while she's probably doting on her newborn, she couldn't help but feel emotional watching her older daughter Riley taking on a new chapter in her life.
Steph and Ayesha welcomed their third child, a son they named Canon W. Jack on July 2. Their two older daughters Riley and Ryan, 2 were on hand to welcome their baby brother as photos from Canon's first day reveal.
As the older sister, Riley held on to her baby brother while her little sister watched beside her. It was clear Riley has grown and is ready to take on the role of big sis.
That same month, Riley celebrated her sixth birthday and to highlight her turning a year old, she took on the trending '#InMyFeelingsChallenge' and showcased her dance moves to Drake's song, 'In My Feelings.' Riley's version was a delight to watch. She stepped out of her toy car and danced barefoot on their driveway. She could possibly be the most adorable child to dare take on the dance challenge.
Now that school's back, Riley is set to conquer a different stage. This time, she's setting foot on a grade 1 classroom and her mother's heart just skipped a beat. Ayesha tried to calm her nerves as she posted a photo of her 6-year-old dressed for the first day of school. The realization of her little girl venturing into 1stgrade seemed to have set in as she wrote,
"And just like that... 1st grade [crying emojis] heart be still. My big girl!"
In June 2016, Ayesha and her husband opened up to Parents magazine about Riley's romance with the limelight. She has stolen the hearts of fans during several appearances with her parents, despite the fact that she gets conscious when people take pictures of her. Ayesha who tries to be protective of her revealed,
"That breaks my heart a little as a parent. She'll put her hand up and be like, 'Mom, she's trying to take a picture of me.' Then I give a look that says, 'Put your phone down."
Two years later and Riley continues to flirt with the cameras. She's clearly a natural and will go on delighting fans as she attains new milestones along the way.
Please fill in your e-mail so we can share with you our top stories!