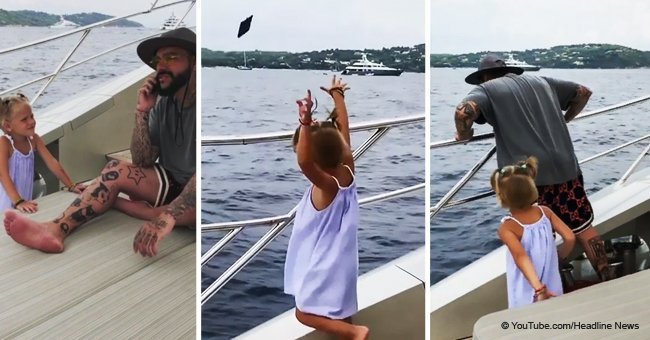 Girl, 4, throws dad's phone into the sea because he uses it too much
The 4-year-old daughter of Timati, a Russian rapper, showed her dad just how important family time is by getting rid of his main distraction. The now viral video, found below, has garnered over 5 million views in under a week thanks to the adorable girl and her bold action.
In the Instagram video, Timati, 34, is lounging on his yacht while speaking on the phone. His young daughter soon realizes she wants her dad's attention and begins interrupting his call. Timati pauses and tells his daughter something before quickly returning his phone to his ears. You can watch it below.
The post, littered with laughing emoji comments, shows what his daughter does on her second attempt at securing dad's undivided attention. When she starts talking again, Timati lowers the phone and again exchanges words with the child. Swiftly, she finesses the phone out of her dad's hand and goes up to the railing.
A big toss from the little one results in an audible splash as the phone enters the waters of the French Riviera where the pair is. Her delightful smile remains as she looks at daddy, who is too stunned to react at first. He can only watch his little girl confoundedly.
Follow us on Twitter for more @amomama_usa.
Many commenters pointed out that the whole thing seems staged, which takes little away from the soaring cuteness level of the girl. Later on, she also got to enjoy several fun activities with her dad, including being on a hoverboard.
Since Timati regularly updates his Instagram feed with boat videos as well as father-daughter bonding time, most agree that the drowned phone won't take long to be replaced and that the daughter apparently gets time with dad.
A few persons denounced the actions of the child, genuinely believing the video to be real. In either case, the 4-year-old is having quality time with dad and has a lot more time to learn.
A previous article describes another young girl who makes an adorable display of her love for daddy as well. Upon speaking to 911 when her dad is unable to breathe, what she says is not only strangely mature but sweet and funny. Listen here.
Please fill in your e-mail so we can share with you our top stories!