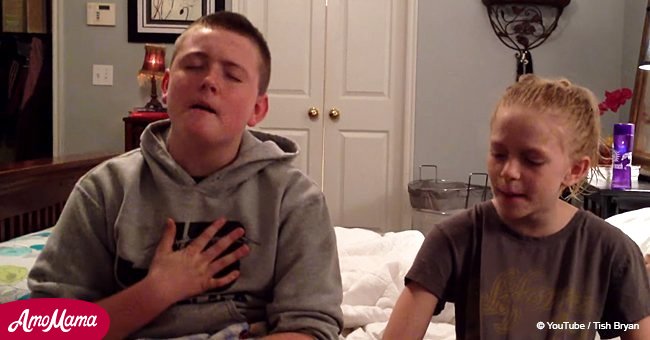 Siblings sing emotional song but little brother behind them steals the spotlight

When older siblings Kate and Liam decided they wanted to sing a duet together, their little brother Johnny lurked behind their backs with his silly antics. His shenanigans stole the show.
In this video that was filmed by the children's mother, Kate and Liam can be seen giving a serious rendition of "Think About You" by Lady Antebellum. However, Johnny ends up stealing the spotlight with his impressive moves and lip syncing.
Posted to YouTube on December 16, 2012, the video showed how important it is to have a funny member in the family, and how such members can make life a lot of fun to live.
This video is about siblings Kate and Liam. They were keen to practice and record their duet song "Think About You."
Follow us on our Twitter account @amomama_usa to learn more and please scroll down to watch the video.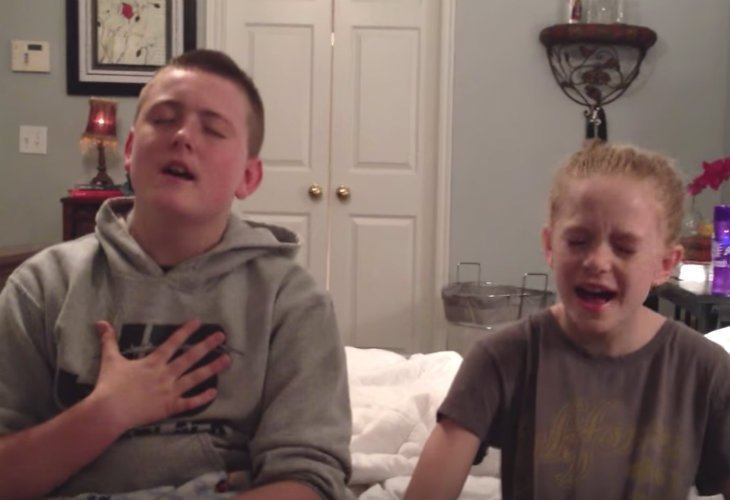 Source: YouTube/Tish Bryan
Their mother couldn't have been happier. She decided to record their duet so that they could see how the two performed.
The filming of the video took place in one of the bedrooms. In the clip, the younger sister can be seen trying to sleep in the bed.
As older siblings Kate and Liam began pouring their hearts and vocals into an adorable duet of the hit song, little brother Johnny decided to get in on the action. He tiptoed into the room and was soon seen in the video.
Johnny was not willing to remain a silent spectator and decided to video bomb the performance of his siblings.
As Kate and Liam continued to sing unaware to the fact, Johnny did an impromptu dance and started mimicking the words of the song. He did not stop at that. He went all out and gave his own funny performance.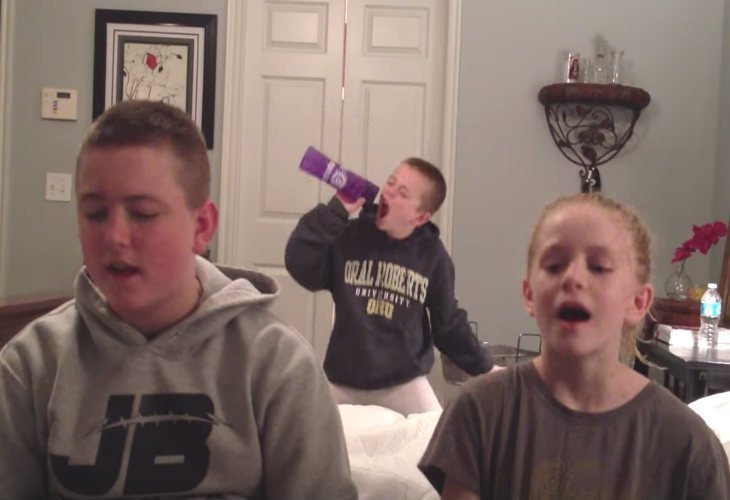 Source: YouTube/Tish Bryan
Their mother continued recording the video without giving away what was happening behind the two singers. She must have kept a straight face and controlled her laughter.
The footage filmed is unforgettable. The family is sure to laugh on seeing it for years to come. Their little sister kept smiling but did not utter a word to break or disturb the performance.
The family is lucky to have Johnny to prance around and make them laugh with his silly antics.
After Kate and Liam watched the video, they were probably furious, but may have soon ended up laughing at their brother's hilarious dance.
The adorable footage has been viewed more than 182,000 times. A lot of YouTubers also shared their thoughts via comments.
"If I don't have that one goofy, silly, crazy kid in my family... I swear to God, I will return them all to the baby factory," Trish Alvarez commented.
"Props to the kid in the bed for not giving the dancing kid away. Great video," Cool music added.
"This is the most entertaining video ever. (And) surprisingly (it's) from 2012. How did I not find it sooner? Great Job Johnny," BRIJESH SHETTY chimed in.
Please fill in your e-mail so we can share with you our top stories!