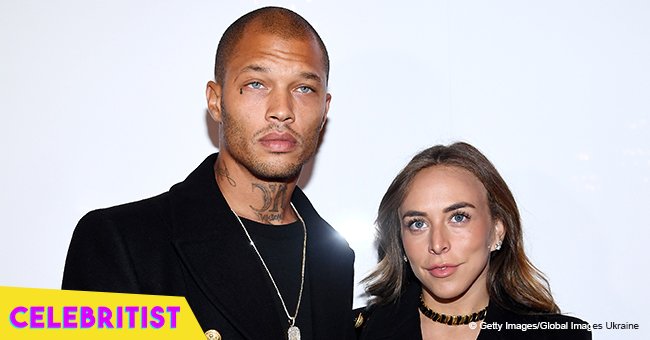 Jeremy Meeks and Chloe Green reveal their baby for the first time during yacht ride
Despite welcoming their baby boy ten weeks ago, it wasn't til this week that Chloe Green and Jeremy Meeks showed off their child while they were out on a yacht.
The first-time mom and her beau shared a glimpse of their adorable baby last Tuesday when they took him out for a ride on their family's luxury mega yacht in Lionheart, Turkey. While their bundle of joy was enough to steal the show, the Topshop heiress herself showed off her stunning post-pregnancy body in a black bikini.
Looking extremely toned and tanned, Chloe made sure to flaunt her rock-solid abs as she lounged around the deck of her £100 million luxury yacht while soaking in some sun.
For his day out, Jayden has dressed in a white shirt with navy nautical stripes on them. Quite a mommy's boy, he rested on his mom's arms during her stroll along their boat's deck. While she attended to her son most of the time, Green made sure to pamper herself alone, slipping away for a solo swimming session before her boyfriend Jeremy massaged her with some tanning oil.
Looking ripped himself, Jeremy displayed his toned and tattooed torso as he stepped out to join his lady love on the deck, wearing nothing but a pair of pink star-patterned swim shorts as he dove into the ocean.
After their swim, the couple took an outdoor shower together, where they were joined by Mrs. Green and Jeremy's son from a previous marriage, 9-year-old Jeremy Jr.
Their private outing comes just days after Chloe shared some before and after photos of her beach clean up of a Mykonos beach that was extremely littered with plastic and debris left behind by tourists. She revealed that she and her boyfriend collected 20 garbage bags of rubbish, alongside their friend Lewis Hamilton, to try and rid the beautiful beach of its dirt.
In the snaps, Chloe is seen displaying her stunning post-baby figure in a checkered bikini while wearing protective gloves as she cleaned the beach shore. The business heiress aimed to raise awareness of the pressing issue on ocean pollution, which kills thousands of sea creatures a year.
"We made it our mission to gather a team together to clean it up... this is nothing compared to what is going on in the world but as quick and easy as it was so get it cleaned up there is no reason why we can't all do our part. I will post more images of what the cove looked like before and after. #nomoreplastic #savetheocean #everylittlehelps #20binbagslater."
The British beauty urged her followers to do their part in saving the oceans, hoping her actions of cleaning up a beach would influence others to do the same when they are given the opportunity to do so.
Please fill in your e-mail so we can share with you our top stories!