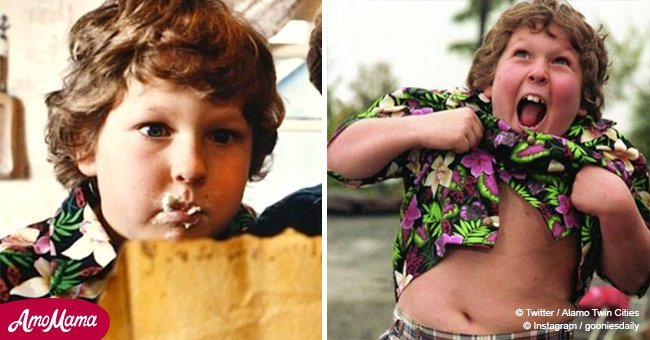 Chubby Chunk from 'The Goonies' is 44 now and looks absolutely unrecognizable
The former child star was chubby and cute in the 80s, but he has since lost his puppy fat. It would be easy to pass him by in the street without recognizing him at all.
The actor lost all the weight he carried as a child, and looks completely different today. Instead of the cute and adorable young boy he was, he is now easily classified as handsome.
Jeff Cohen, 44, played the lovable child in the 1985 classic "The Goonies." When he stepped out in September 2015 for the Variety & Women in Film pre-Emmys even in Los Angeles, it was apparent just how much his appearance had changed.
It's been decades since Cohen shook his stomach in the Steven Spielberg-directed adventure comedy. The former actor has slimmed down dramatically, and now has a shaved head instead of his signature childhood brunette curls.
His Twitter biography reads: "Chunk in Goonies, (please don't hold that against me)."
The former star's days of searching for pirate treasure are definitely over, but fans of the film won't likely forget him anytime soon.
""The Goonies" have aged 30 years, so there was a magic about that particular cast. How do you make it work now? That's a difficult challenge," screenwriter Chris Columbus said of the film.
Cohen is now an attorney after he graduated from UCLA School of Law in 2000. He is the co-founder of the the Beverly Hills entertainment law firm Cohen Gardner LLP in 2002. He last acted in the TV movie "Perfect Harmony," in 1991.
"The Goonies" also featured Sean Astin, Josh Brolin, Corey Feldman, Kerri Green, Martha Plimpton, and Jonathan Ke Quan. In July 2015 Columbus confirmed that a remake of the movie was in the works.
"There are a lot of writers who are interested in writing "Goonies," but we're very protective because it's such a well-loved movie," Columbus said at the time.
Rumors of a "Goonies" sequel were first sparked in April 2014 when the original film's director, Richard Donner, hinted at a second movie. He suggested that Columbus and co-writer Steven Spielberg would also return.
In the same year, film costars, Astin and Feldman, shared that they would be willing to return too.
Please fill in your e-mail so we can share with you our top stories!