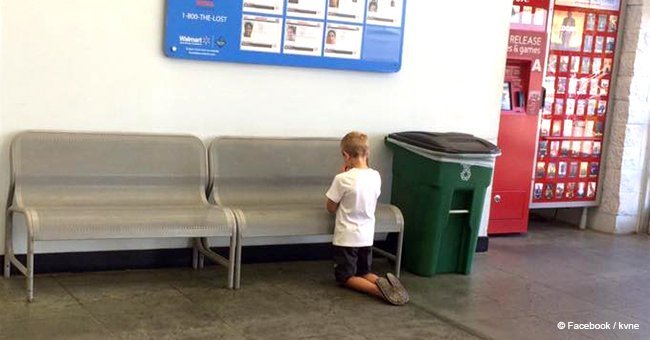 Mom turns around to make sure son was nearby but finds him kneeling in front of a blue board
The mother was shopping at Walmart and realized her son was nowhere near her. After looking for him, she became emotional when she saw her son kneeling in prayer in front of a bench.
During one of her routine trips to Walmart in July 2017, the woman decided to take her son with her. Soon enough, the boy began to wander off as they were walking through the aisles.
After a couple of minutes, the mother spotted her son close to the store's entrance.
As she was about to reprimand her son, she noticed what he had been doing and was brought to tears.
Follow us on Twitter at AmoMama USA for more viral stories and videos.
She walked towards her son who was kneeling in front of a bench. On the wall in front of him was a huge board that read, "Every second counts"
As seen on the picture that went viral on Facebook, the board was filled with images of missing kids.
As it turned out, the boy had been saying a prayer for the children.
The mother became emotional and was proud of her son. She felt the need to share the photo on social media to inspire others just like how inspired she was of her son.
On the viral post by KVNE, the mother wrote, "I had to run into Walmart. I turned around to make sure my son was next to me. Instead of finding him by my side I found him kneeling in front of the missing children board praying."
The post touched many hearts, including a Facebook page called Bring Aubrey Home.
The page admin saw that one of the children in the photos was Aubrey Jayce Carroll, a teenage boy in Georgia who went missing in 2016.
The page wrote, "I don't know who this little guy is but I want to thank you for praying for these children. This has surely touched my heart. If I knew where or who this kid was I would love to thank him personally."
Other social media users wrote words of praises for the boy as well and called him an inspiration for others.
A lot of inspiring things happen at Walmart. There's also another heartwarming story of a man who made himself walk to Walmart every single day and ended up losing over 300 pounds.
Please fill in your e-mail so we can share with you our top stories!