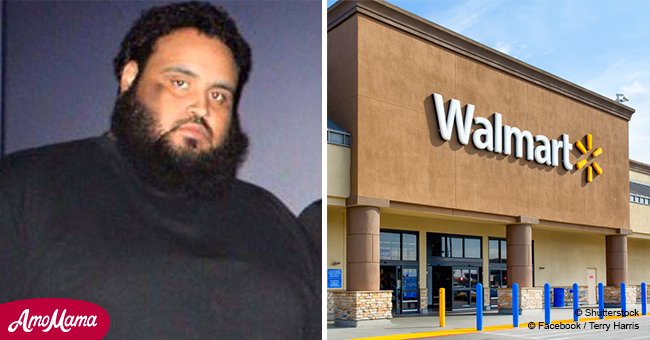 Man lost more than 300 pounds by making himself walk to Walmart every day
Pasquale "Pat" Brocco, who tossed out all his food promising to walk to the local Walmart every time he wanted to eat, lost more than 300 pounds in the process.
WFFA reported that the 31-year-old from Avondale, Arizona, made several changes in his life to improve his health.
Brocco decided to bring some positive changes in his lifestyle after doctors gave him a warning that his weight of 605 pounds and his high blood pressure and cholesterol may put his life in some serious danger.
Read more on our Twitter account @amomama_usa.
He said, "My stomach was down to my thighs. My chest was hanging down here. I was disgusted."
On reaching home after his appointment that day, Brocco took a photo of himself in front of a mirror. He decided that every time he would be hungry, he would walk to the closest Walmart, which was a mile away from his home, to eat his meal.
Brocco, walked to Walmart three times a day and by doing so ended up walking six miles. He claimed he had never walked so much in his life.
Results began to show and in less than a couple of years, the Avondale man lost 200 pounds.
Brocco simultaneously brought some major changes to his diet as well. After realizing that diary was a threat to his health, he excluded it altogether from his diet.
He moved on from walking to Walmart to walking on a treadmill at the gym. He also began using gym equipment, lifting weights and doing other exercises he earlier could not.
Brocco couldn't even go to the gym because he weighed 600 pounds. He was nicknamed "Fat Pat" by people around him.
After losing 330 pounds, Brocco is no longer called Fat Pat, but "Possible Pat." He hoped to set an example for his three-year-son as Possible Pat and be a role model to him.
Brocco also had to undergo a surgical procedure to remove about 30 pounds of excess skin because he lost so much weight. The surgery was performed by a plastic surgeon, Dr. Remus Repta.
Possible Pat also made an appearance on The Ellen Show on October 13, 2016, where he spoke about his journey of the incredible weight loss.
WFAA also shared his diet for a typical day both before and after the weight loss. While he used to consume over 11,000 calories daily, he began to reduce the intake to 2,250 calories a day.
Brocco's diet before his weight loss:
Box of cereal
1/2 gallon whole milk
One package peanut butter cups
One candy bar
12-inch meatball and cheese submarine sandwich
100 fast food chicken nuggets
One fast food apple pie
One fast food milkshake
Two liters of soda
Four doughnuts
After weight loss:
2 gallons of water
About 20 egg whites
1 cup oatmeal
24 ounces chicken breast
Green beans
6 ounces ground lean bison
32 almonds
1/2 sweet potato
Please fill in your e-mail so we can share with you our top stories!