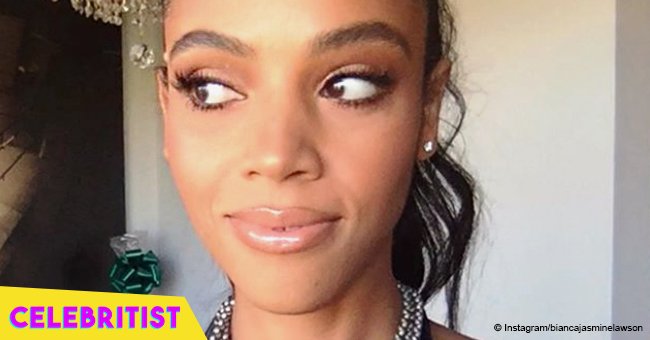 Bianca Lawson melts hearts with picture of her beautiful mother
Beyonce's stepsister Bianca Lawson has been making waves lately for her role as Darla in 'Queen Sugar.' But she took a moment recently to gush about her mother by sharing a throwback pic of the two of them, and it was precious.
Bianca Lawson paid tribute to her mother recently by sharing a throwback photo from their time together during her childhood. The 39-year-old actress who also happens to be Beyonce's stepsister evidently holds a special place in her heart for her mother, Denise Gordy, as she took a moment to treat her fans to a glimpse of their closeness.
Bianca must have been around the age of seven when the photo was taken, though she already registered her beauty as she wore a sailor-inspired dress with blue and white striped sleeves. She hugged her equally lovely mother who was fashionably dressed in a printed red top cinched at the waist with a wide belt. Denise completed her look with a strand of giant black pearls to match her black beret and pants. The pair smiled as they stood along a hallway adorned with picture frames, possibly in their family home.
Bianca's caption was simple, but it was fitting to describe her mother.
"She's a real one [heart emoji]"
Many are now aware that Bianca is related to Beyonce and her sister Solange Knowles through the marriage of her father, Richard Lawson, to the singers' mother, Tina Knowles in 2015. But while Bianca's name may have rung louder after being associated with her famous stepsisters, she had already in fact been visible as an actress decades prior.
HER EARLY YEARS ON TELEVISION
Her career started as early as when she was nine appearing in commercials for Barbie and Revlon. But it was in 1993 when she was cast as Megan Jones in the television series 'Saved by the Bell' that her name started to ring a bell. Later, she appeared in the sitcoms 'Sister, Sister,' and 'The Steve Harvey Show.'
Bianca's television career picked up further as she appeared in a series of top-raters including 'Buffy the Vampire Slayer,' 'The Secret Life of the American Teenager,' 'The Vampire Diaries,' 'Pretty Little Liars,' and 'Teen Wolf.' In 1998, she was cast to play Diana Ross in the TV miniseries 'The Temptations.'
HER BIGGEST TELEVISION BREAK
In 2016, Bianca got her biggest break joining OWN's 'Queen Sugar' and portraying recovering drug addict, Darla. In 2017, she opened up about her appreciation of the role which allowed people to see her in a new light.
"My whole life I've been waiting to play a part like this, quite honestly. ... To work with these directors and to work with Ava [DuVernay], I could cry talking about her. This material and this environment, it's really like a once-in-a-lifetime experience."
Bianca was especially proud of the fact that OWN founder Oprah Winfrey herself complimented her for her performance on the show. She recalled how the billionaire talk show host pulled her aside on her first day on the set.
"She took my hand and she was like 'amazing work.' Can you imagine? ... She was like, 'I can tell you love Darla. I can tell because I can tell in your work. End scene! What else do you need in life?"
HER WORST MOMENT
Last month, Bianca was featured on the Chicago Tribune, and one of the interesting topics she discussed was the worst moment in her acting career. It's hard to believe that she would ever have one but she apparently did. She recalled during one of her auditions how her gel-padded bra burst and dripped all over her shirt while she was performing. The oil that came out of her bra got caught in her hands which traveled to her hair and other parts of her body as her acting required of her. This resulted to an embarrassing situation for Bianca who refused to let that wardrobe malfunction distract her. Since then, Bianca realized no matter how perfect you intend things to be, stuff happens. She concluded,
"If you allow yourself to get distracted and throw in the towel, you'd never get anything done. And that's part of the discipline of the work."
Please fill in your e-mail so we can share with you our top stories!