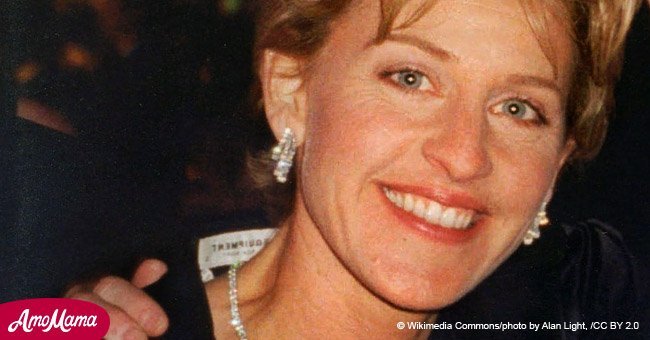 Here's how Ellen DeGeneres came out as lesbian
Ellen DeGeneres is best known for her daytime talk show which brings joy and laughter to millions of her viewers every day. Her audience joins in dancing at the start of each episode as they bravely showcase their moves along with Ellen.
So how did the fearless host get started on the path to becoming the lesbian queen of daytime television?
In an interview conducted on the Oprah show back in April of 1997, Ellen sat down with host Oprah Winfrey and opened up about her journey to being one of the first lesbian celebrities to go public about her sexual orientation. Follow us on Twitter for more @amomama_usa.
Oprah asked Ellen:
"How did you know that you were gay? Is it something like 'ding, ding, ding, ding, ding? Did any bells go off?"
Ellen responded:
"I didn't hear any bells. No bells. I look back on it now and I've known since I was a little girl."
Ellen clarified:
"Everyone has a different story and I'm not trying to say this is what gay is. This is just who I am."
When Oprah asked if it was hard for DeGeneres to tell her family, Ellen explained that it wasn't hard at all.
She explained what happened between her and her father who was a bit more difficult to confront.
"I was upset about something. I just kept saying 'I don't wanna tell you,' and finally, I told him. And then they asked me to move out of the house."
She goes on to tell Oprah how she was forced to live somewhere else due to her stepmom's concern about her two daughters. Ellen acknowledges the saddening event that "really hurt," but says she "understands people not understanding."
Oprah then redirected the conversation to the "coming out episode" that would air that night. At the time of the interview, Ellen starred as the lead role in a television sitcom named after the then actress. An episode in the fourth season of the show titled "The Puppy Episode" featured the main character's recognition that she is a lesbian.
Throughout the show's airing, Ellen noted how she included hints in the character's role that would eventually lead up to her coming out both on and off the sitcom.
When asked why she felt it was necessary for her to come out by Oprah, Ellen simply answered:
"Because it's ok."
In addition to her sit down with Oprah, Time Magazine also had a sit down with Ellen to discuss letting the public know she was gay.
The bold headline was titled, "Yep, I'm Gay." But Ellen told Time that she "never wanted to be the spokesperson for the gay community. Ever. I did it for my own truth."
When Time asked about her decision of timing, Ellen said:
"Now I feel comfortable with myself, and I don't have to be fearful about something damaging my career if it gets out, because now I'm in control of it—sort of. No one can hurt me now."
Not everyone who has to deal with a similar situation has the support of family and a career as part of their foundation, but Ellen both back then and now has continued to bring hope to those she gets her message across to.
For the Oprah Show and Time Magazine, unfortunately, Ellen also caused a negative backlash from viewers who held a strongly opposing stance to the whole idea of putting gay persons out there.
The challenges Ellen faces as a lesbian celebrity are ongoing but less prevalent in the modern era. New ones will continue to emerge though. Just two years ago, she had to overcome a terrible loss when her former girlfriend passed away. The couple had just taken a break from living together when an accident changed everything. Read about the night it happened.
Please fill in your e-mail so we can share with you our top stories!