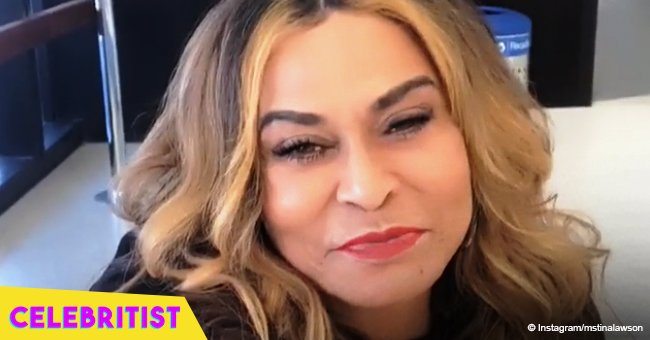 Beyoncé's mom steals the show dancing with MC Hammer in recent video
Tina Knowles knows how to turn heads wherever she goes, and she recently did it again by showing her best moves with MC Hammer at an exclusive event.
The beautiful matriarch of the Knowles family is currently touring around the country with her daughter, Beyoncé, and her son-in-law, Jay-Z, on their "On The Run II" tour. But Tina always has time to attend some exclusive parties with famous friends.
The 64-year-old beauty loves to dance, and she's not shy when it comes to sharing her best moves in front of the cameras. A few weeks ago, she amused fans by sharing a clip on Instagram dancing with one of the best dancers of the '80s, the famous rapper MC Hammer.
Both stars were part of the guest list at the 2018 CEO BBQ, a party organized by businessman and high tech entrepreneur Ben Horowitz and his wife, Felicia. The event also counted on the presence of other celebrities like Sean Combs, Van Jones, Gayle King and Jesse Williams.
Hammer, famous for his '80s hit song "U can't touch this," joined Tina on the dance floor on an impromptu dance battle that had Knowles smiling and clapping to show her excitement. She later explained the reason for her joy and took the opportunity to send a lovely message to Hammer by captioning the video:
"It's Hammer time" I wasn't going to pass up an opportunity to dance with one of the greatest dancers of all times Mr. MC Hammer. Not only one of the greatest entertainers of our time and truly part of our culture, he and his lovely wife Stephanie are the most decent, generous human beings. We are at Ben and Felicia Horowitz's annual CEO barbecue @feliciahorowitz also @Oscar_oneal"
Is not the first time that Knowles shares a dancing video on social media. A few months ago, while she was touring and vacationing with her daughter's family, Tina posted a clip dancing to The Carters' newest single, "Apes**t," aboard a private yacht on the South of France.
Tina explained that she was in the middle of a battle with her six-year-old granddaughter, Blue Ivy, but the toddler defeated her.
"This is my dance-off with Blue !! She beat me of course! We had to make up an original dance move. My awkward shoulder move was my made up dance. I know it's wrong but my competition is only 6. She killed it though!!! #aboutthatcaftanlife"
While in Nice, the Carters and Tina enjoyed a lovely dinner with U2 main vocalist, Bono, and some other friends. Tina, always ready to document the special moments to share with fans, panned her cellphone camera around the dinner table while the group sang together to Van Morrison's "Brown-Eyed Girl."
"I am being the Mamarazzi, and she is not cooperating," wrote Lawson on the caption of her post, referencing her daughter's lack of enthusiasm to appear on camera, as shown in the video.
Later on, Tina made it to the headlines thanks to her friendship with the former first lady, Michelle Obama, when the pair was caught dancing and jumping with the crowd at the "On The Run II" show that took place at the Stade de France, in Paris.
In videos captured by fans, the two ladies are seen enjoying Jay-Z's performance at the VIP section of the arena, just beside the stage. Tina was rocking red pants and a white t-shirt with red flowers on it, while Obama went for a summery feeling with a white t-shirt and shorts.
Beyoncé, Jay-Z and Tina's relationship with the Obama family goes way back.
The "Partition" singer was one of the performers at Barack Obama's 2013 inauguration, and later, Jay-Z was inducted into the Hall of Fame with a speech of the former president.
In fact, Michelle enjoyed the concert in Paris so much that she later took her husband to enjoy the show in Landover, Maryland. While this time they were secluded in a VIP box above the stadium, Michelle enjoyed herself just the same as she did on the floor with Tina Knowles.
Please fill in your e-mail so we can share with you our top stories!