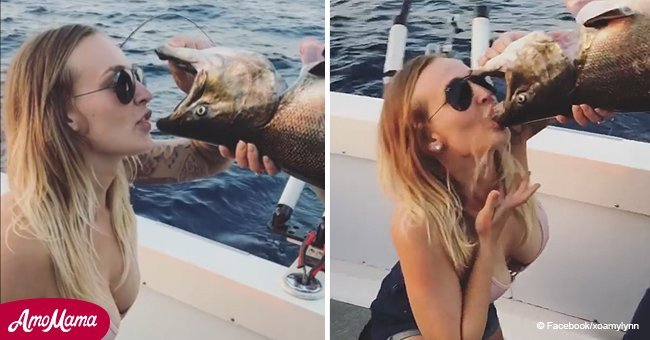 Woman films herself drinking beer from gutted fish's mouth
Aimee Lynn filmed herself drinking a beer through a dead fish, which quickly went viral.
The video, filmed in Port Washington recently, shows the moment Aimee in a bikini opens her mouth and drinks a pint from between the fish's lips.
As it turns out, the 28-year-old was dared by her friends to take part in the bizarre stunt.
Follow us on our Twitter account @amomama_usa to learn more and please scroll down to watch the video.
In the footage, Aimee, who lives in Wisconsin, can be seen trying not to laugh as she drinks the beer.
"That was awful," the American woman can be heard saying. Her mate then gives her a high-five after completing the act.
Afterward, Aimee said that trying not to laugh was the hardest part of the challenge.
"If you watch the video you can see that they lifted the fish too much, the fish's mouth almost got stuck in my throat, and I felt like I was drowning," she recounted.
"I was trying to breathe and not laugh at the same time, so it was horrible to drink all the beer."
The clip, posted on Facebook by Aimee, has been viewed more than 3.6 million times and has received more than 25,000 shares. A lot of netizens also placed their thoughts via comments.
"Fresh Salmon Gravity Shots?" Alexander Emmert wrote. "That's a new decadence that I've never witnessed before!"
"I just showed a guy this, and he said he was in love!" commented Taylor Lorraine Hackl.
And for all the people who thought that Aimee's action was disgusting, Dave Carew pointed out that they need a life.
"People need a life if they are hating on you, Aimee! You are having fun after an amazing catch. What is to hate? I admit. I didn't know it was a beer you were (chugging). Yet feel much better now that I do know," he said.
Another bizarre stunt that involves fish is the fish pedicure. It is a treatment in which the feet are submerged in a tub of water, which has a bunch of small fish called Gurru rufa, at the temperature of between 25 and 30 degrees.
The fish pedicure is quite popular in the past decade already. However, a lot of evidence has come to light to show that there are serious risks associated with it.
Please fill in your e-mail so we can share with you our top stories!