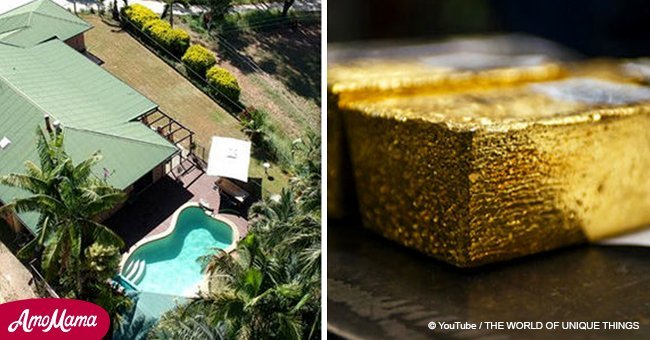 Man finds gold mine in his backyard

It took homeowner Anthony Doolin 3 years to discover that there was an entire gold mine in his own backyard. His Brisbane property was worth $1.35 at the time of purchase but after this, might increase in value.
Doolin had been living on his estate that covered 16.5 hectares of land. He finally did some exploration in the woods of his own suburban backyard one day and was shocked to find a real gold mine. He told Real Estate that:
"We weren't told about it, we just found it there one day."
Follow us on Twitter for more @amomama_usa.
The mine turned out to be six meters deep and the ironbark was solid and intact. Despite this, Doolin never went deeper into the mine. He did, however, research further about his area. Real Estate reports how Mr. Doolin found out that:
There was a lot of mining at the turn of the century and in those hills, there are quite a few little mines."
He recounts his reaction to the exciting discovery. He felt like a movie character, he said.
"I nearly fell over, I just pictured Indiana Jones and underground railroads."
The adventure stopped short when Doolin attempted to sell the property for $1.65 million but had to settle for $1.35 million instead. He chose to break even, allowing his mother to sell the estate on his behalf.
It appears Doolin left a box of possibilities for the new owner, as they may take on their own and search out the mine themselves.
In quite a similar incident taking place just about three months earlier, a man found what he believed to be a litter of puppies in his backyard. Some might prefer such an adorable discover even more than the gold. Craig McGettrick did what he could to ensure that the creatures were well taken care of.
After sharing pictures he took, the man soon was informed by the National Fox Welfare Society that the creatures were actually fox kits. Their mother had left them for a while but returned for several reasons, the least of them is to look after her babies. Read what happened here.
Please fill in your e-mail so we can share with you our top stories!