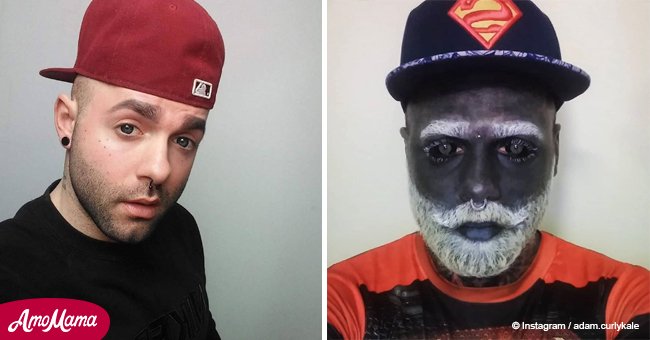 Man removes genitals and nipples to complete his tattoo
Adam Curlykale paid to have his genitals and nipples removed because he believed that they spoiled the view of his body art.
Curlykale, 32, from Kaliningrad in Russia, who tattooed almost 90 percent of his body, has had his genitals and nipples removed to achieve a full-body tattoo.
He spent 12 years covering his body, including his eyeballs, with black ink. However, Curlykale felt that those parts of his body that weren't tattooed spoiled the look of his body art, so he decided to have his penis, testicles, and nipples removed.
On July 14, he took to Facebook to share a photo of himself lying in a hospital bed.
"I've just had a nullification surgery, had a lot of bleeding but luckily no need for a blood transfusion. Veronica is with me and she's taking care of me," he captioned the image.
Follow us on our Twitter account @amomama_usa to learn more.
In the snap, Curlykale is seen flashing the peace sign while his body is covered with a white blanket.
His friends and family left encouraging comments on his Facebook account.
"Love and support your way!" wrote Nandi La Sophia.
"Get well soon," commented Giovanni Calderone.
Curlykale underwent surgery removing his nipples and private parts at Jardines Hospital in Guadalajara, Mexico.
He was born with albinism. Wanting a remedy to his pale skin, he became addicted to tattoos.
Several years ago, Curlykale was diagnosed with cancer. That's when he also decided to cover his body in jet black designs. He claims to be cancer-free already. His immune system, however, remains weak.
"I always knew that I was different from the rest of society," he was quoted as saying in a report by The Irish Post.
"My favorite color, for example, has always been grey, in different tones, and that's why my current skin color is graphite. I design my tattoos because it's my body. I have a specific vision for myself and I do it step by step."
Curlykale said he wanted to enjoy life and getting inked all over his body gives him satisfaction.
"Life is so short that I stopped wondering what will happen tomorrow. Life is here and now," he explained.
In 2017, Curlykale became popular after he was picked to star in a television show "Second Face" in Poland.
In the show, he revealed that he had gotten his tattoos to cover the blemishes that were left behind by the cancer.
Please fill in your e-mail so we can share with you our top stories!