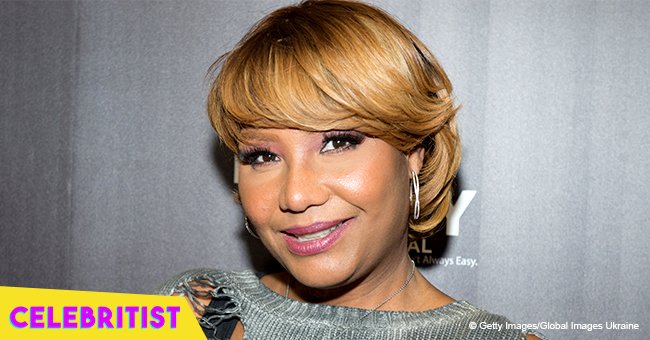 Traci Braxton rocks long red braids and tight jeans after becoming a grandma
Traci Braxton showcases an edgy look and totally rocks it. The singer who just became a grandmother is now also officially a "duchess."
Traci Braxton may already be a grandmother, but she certainly didn't look like one in her latest photo where she sports long red braids.
The singer who now calls herself a "duchess" after welcoming her newborn grandchild flaunted her cleavage in a low-cut white t-shirt matched with a pink blazer. She wore a pair of ripped jeans to complement her edgy look and finished off the ensemble with fringed heels.
Traci revealed in her caption that she was in White Plains, New York where she attended the 'F.L.Y. Ladies Summit' as a speaker. She also credited the people responsible for her "slaying" look.
In May, the 'Braxton Family Values' star became a grandmother for the first time. Her son, Kevin Surratt, Jr. welcomed a son with his girlfriend, Olivia Haaron. Traci doted on her grandchild as she posted a photo of him sleeping peacefully. Proclaiming him as the best Mother's Day present, she also revealed she was at a loss for words to describe the feeling of being a duchess.
Since becoming a grandmother, Traci has been referring to herself as a duchess. Her fondness for the term began when she and her sisters were still kids. She told this story during an interview with 'theGrio' in March.
"My sisters and I…when we were younger, we said if we ever have kids, and our kids have kids, our names would be duchess. That's royalty, thats what they call the Queens when they have grandkids. So, I'm royalty."
Meanwhile, Traci just released her newest single, 'Lifeline' last month which was also around the time she debuted her red hair. At the time she announced the release of her new single, she also disclosed she was recording an album that's coming soon.
Moreover, she launched her own solo tour in June after learning she and her sister Tamara Braxton were no longer going to be part of their sister Toni Braxton's concert tour just a month before they were set to hit the road.
Please fill in your e-mail so we can share with you our top stories!