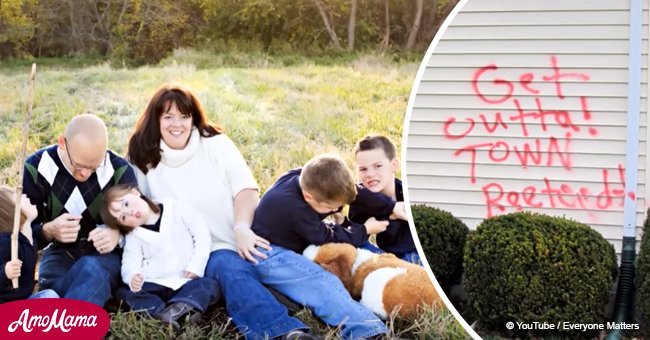 Family gets hateful graffiti on their house after adopting 2 little girls
The Hollis family house was spray-painted with hate messages after they adopted two daughters from Ukraine, named Meg and Alina, both of whom have Down syndrome.
Anne Hollis's two young sons were disturbed by this and they wanted to speak out against it in their own special way.
So the two boys took to YouTube to post an inspiring video with a message and a plea to help them remove the word 'retard' from people's everyday speech.
'Retard' was one of the hate-filled words spray-painted on their home in April 2011. The other word that was painted on the house wall was 'Get Outta Here.'
Follow us on Twitter to learn more.
According to the description to the video, uploaded by Everyone Matters, the family was attacked because the two girls have Down syndrome.
"We live in a small town in Central Illinois and woke one morning in April 2011 to find our home and cars had been spray painted," Hollis told Everyone Matters. She added that the day changed her life "forever."
So to "speak up" for their sisters, the Hollis Boys, who are of ages 6 and 7, decided to make an informative video about Down syndrome.
In the video, the boys show several cards with messages written on them. Each message begins with the letters 'Re' symbolizing their future call to stop using the word 'retard' to refer to people with Down Syndrome.
'[Our sisters are] Reacting with a range of emotions—they are NOT always happy! That is a stereotype about people with Down syndrome. Don't believe us? Then you take away Meg's iPad and see how she reacts!' one of the cards read.
Toward the end of the video, their cards bear the plea to 'respect' their sisters. 'Our sisters are NOT Retards,' the final card reads, before finally making an appeal with the viewers to help them remove the word by taking the pledge at www.r-word.org.
The video with the powerful message from the young boys has been viewed over 1 million times on YouTube and more than 1,000 people have liked it.
In a similar incidence, a couple in Blackburn, England endured a similar shock when a stranger built a fence only two feet away from their front door because of a land dispute. The fence was built when the couple was away on their vacation at the Carribean.
Please fill in your e-mail so we can share with you our top stories!