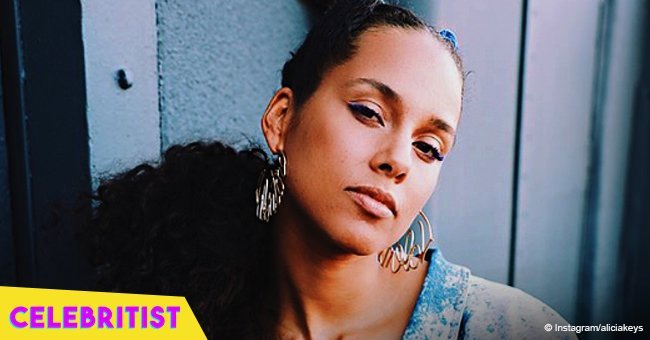 Alicia Keys shows off youthful look in white shirt & tight purple pants in recent pic

For women in the music industry and showbiz generally, looks are everything! Alicia Keys continues to defy the mainstream standard of female beauty and dares to look good while at it.
The "If I Ain't Got You" singer shared a photo of herself wearing a white graphic T-shirt and fitted purple pants. She sports her signature braids and a pair of iconic purple-tinted sunglasses. Her caption is a tribute to summer:
"Summer don't go…"
One look at her face and you can tell the Grammy award winner wasn't kidding when she embarked on her makeup fast two years ago. At the time, Keys was hoping her decision to embrace her natural beauty would help other women free themselves from society's obsessive beauty standards.
Keys herself reached a tipping point when all the makeup she was required to wear as a music artiste caused her to develop skin irritations. She narrated:
"I started at 20 years old in this ridiculously invasive world [the music business] in which everyone covered me in makeup and then threw me under tons of lights, so I'd sweat for two or three hours. …It took me so long to finally say, 'Whoa! Who am I under there?' That is just my own personal quest."
It wasn't easy for the mom-of-two, being a celebrity and constantly having cameras shoved in her face. There were those who said she was branding herself as superior to women who wear makeup, but Keys was quick to set them straight:
"I am all about a woman's right to choose. I think a woman should do anything she wants as it relates to her face, her body, her health. Whatever mode of expression that empowers you, that's what you should do. What I am not down for is this ridiculously high, unrealistic expectation about appearance that we as women are held to."
Keys, 37, who is married to music producer, Swizz Beatz, also stressed that words go a long way in helping a woman develop confidence in her real self:
"I don't know if we tell women great news about themselves enough. You'd be surprised how often a young woman doesn't hear positive things about herself—not in her home, not at school. It's hard to create a beautiful image for yourself when you've never seen it or heard it."
Please fill in your e-mail so we can share with you our top stories!