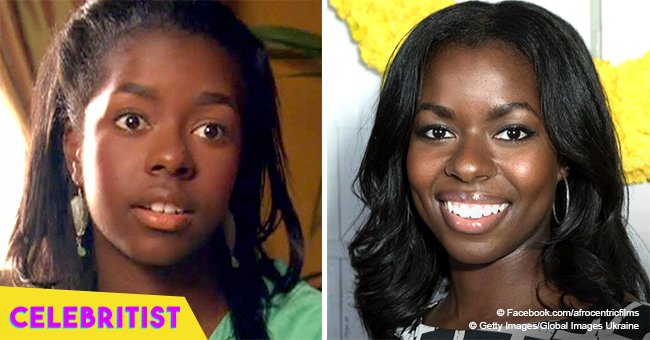 Camille Winbush, 28, flaunts seductive curves in polka-dot dress in recent photos
She's better known as the rebellious Vanessa Thompkins on "The Bernie Mac Show," but Camille Winbush is no longer that little kid. The flawless actress is now grown-up and showing off her best attributes.
Camille Winbush has been capturing hearts on television since she was 4. Back then, people thought she was adorable and very talented for her age; these days she has fans fawning themselves because of her beauty and charm.
The 28-year-old actress has made of her Instagram account the perfect place to expand her relationship with eager followers, keeping them updated with her life by sharing pics of every special occasion.
In one of her last posts, the actress did a slideshow of photos from her weekend with friends shooting a new project tentatively called "LINUS," based on the comic "Peanuts."
Winbush will be playing Charlie Brown, and while shooting the pilot, she rocked a sleeveless polka-dotted yellow dress that hugged her curves and white sneakers. She showed her excitement for the upcoming project by captioning the pic with a lengthy message that reads:
"Over the weekend an old friend asked me to be a part of a project he's been working on. Not only did I reconnect w/him, but I got to work w/a familiar face, and make a whole group of new friends. The icing on the cake was working w/a young black crew led by a black female who wrote, produced, and directed the project. #Linus #blackexcellence."
Swipe to the right on Camille's post to see all the pics:
Her actress friend, Dot McDonald, will be playing Charlie Brown's best friend on the series, and she explained on her Instagram a bit more about the project.
"Meet Charlie Brown played by Camille Windbush & her best friend Imani Washington played by me! The pilot, "The Adventures of Charlie Brown" Aka #LINUS was created, written and directed by Eboni Price!" she wrote, and continued:
"Do y'all see all this beautiful, creamy, flawless BROWN?! Congratulations to the entire cast and crew for breaking ALL the rules, not waiting & getting it done! More than half the room was Howard Alum, when I tell you HU is a movement it's a MOVEMENT. Let's go!!!!"
Camille has been taking on small roles through the years after "The Bernie Mac Show" ended, making appearances on series like "Criminal Minds," "NYPD Blue," "Grey's Anatomy" and "The Secret Life of the American Teenager."
According to her IMDB, she has two projects lined up for the second half of the year, "FraXtur" and "Everything But A Man."
The actress has a very fruitful professional life, and she's also doing good on a personal level, as she's currently dating fellow actor Daniel Nguyen.
Please fill in your e-mail so we can share with you our top stories!