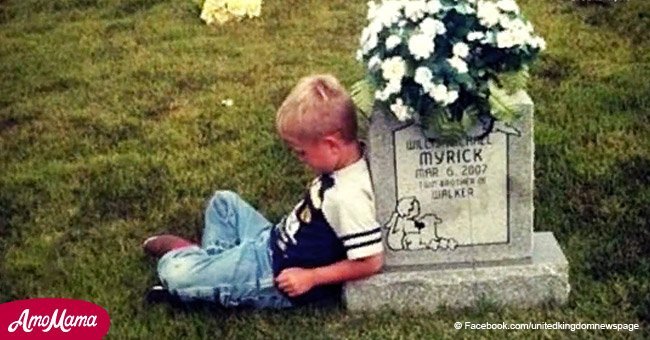 Little boy visits twin's grave and tells him about all the things he's missing
Most kids have to be prodded to talk about their first day of school, but Walker Myrick rushed to volunteer the news to his brother. Nearby, his mother photographed the meeting. The reason will leave you feeling bittersweet.
Sadly, his twin brother lays in a grave that Walker has to visit whenever he wants to "communicate." On that first day of school, Brooke Myrick, Walker's mom, snapped a solemn picture of her son as he rested his back against the tombstone under which his sibling Willis lay. Mirror reported the story last year.
In 2015, at the tender age of five, Walker displayed that he felt some sort of connection to Willis. On the day the photo was taken, Brooke says it was her son who insisted on going to visit his brother at the burial site.
"Walker told us he wanted to tell Willis about starting school."
Brooke, 33 at the time, saw how her son had propped himself tenderly against the gravestone.
"I saw him sitting there and knew I had to snap a photo."
She encouraged parents to let surviving twins know about the loss of their sibling whenever the unfortunate tragedy happens. In Brooke's situation, her sons Walker and Willis experienced a disease known as twin to twin transfusion syndrome (TTTS). The condition leads to one twin, the "recipient," getting a larger amount of blood flow than their other half, the "donor."
While potentially terminal for both fetuses, Walker survived the incident while Willis passed away in the womb during about her 23rd week into pregnancy.
Brooke and her husband had bought "two of everything" and found it difficult to return home and see all the paired items.
For both Walker and his mother, it is felt that she still has her two boys, at least in spirit. Brooke's mom says that:
"Walker visits the grave for every holiday, at least, and some days he will ask specifically to go by."
Walker appears to feel a connection from "beyond the grave" to his twin brother. His mother describes her faith in their relationship:
"I think their connection is strong, even in death. Identical twins are known to carry a very strong connection and I believe its still there with my boys."
Brooke also has faith that:
"Willis truly lives through Walker - and I think he watches over him."
Walker and his mom have taken steps in an attempt to watch over and assist others who may have the devastating condition that tore her boys apart. They regularly hold a fundraising walk, aptly called "Walker and Willis birthday walk" to spread awareness and help fund the TTTS Foundation.
Touched readers expressed their outpouring of support and solace to the family on Facebook:
One user, Janice Oullette, said, "Really sad but oh so special. God bless," while another user named Betty Jenkins made the comment, "That's so sweet, but I know he was there with you. God bless you."
Please fill in your e-mail so we can share with you our top stories!