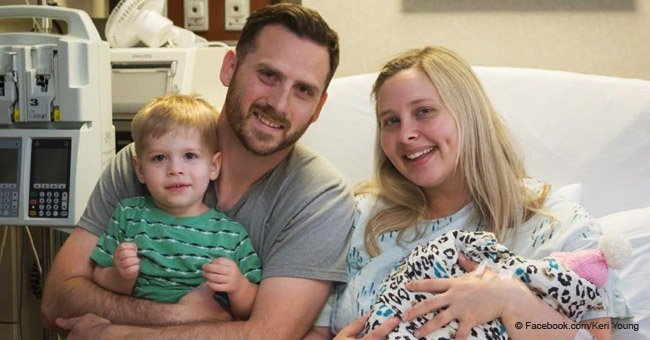 Husband writes emotional tribute to wife's terminal pregnancy
When Keri and Royce Young received shattering news during a doctor's visit last year, wife Keri made one of the toughest decisions of her life right there and then.
The devastating reveal was that their baby would not grow a brain and so would die soon after being born. Keri shocked her husband by asking a question which later drove him to write this gut-wrenching Facebook post. revealing just how he felt about his wife. Royce revisits the moment that shook him.
He wrote:
"...literally 30 seconds after our doctor told us our baby doesn't have a brain, somehow through full body ugly crying, Keri looked up and asked, 'If I carry her full term, can we donate her organs?'
The doctor who had given the bad news did not quite believe Keri was being serious. But it turned out she was. Follow us on Twitter for more @amomama_usa
Keri would have to endure just as much as any other pregnancy and no less. Yet, she selflessly reflected instead on getting others the life-saving news they were waiting for.
Referring to his wife's noble choice, Royce further wrote:
"I was a spectator to my own life, watching a superhero find her superpowers."
Keri decided in that doctor's office there and then to bring her daughter to full term primarily to donate her organs, but there were other reasons behind the nearly impossible decision.
Royce explained:
"Eva is alive and our daughter deserved to meet her mama and daddy."
This, he said, gave them a "purpose to continue on."
Royce went on to describe the admiration he has for the incredulous act of love from his wife. He recounts a message that had stuck with him as soon as he saw it.
" That kid Jarrius wears a shirt that says 'It Takes Lives To Save Lives."
Royce knows that for one family, Eva would be a "miracle." He noted that Keri realized this the instant they got the crushing news.
The couple would still have to suffer the bleak consequences of their decision, but Royce accepts that,
"...while it's going to be amazing to run through that tape and meet Eva, it comes at a cost. We'll go to the hospital for a birth, and go home without a baby."
As he closes out his tribute, which he wrote while looking at his sleeping wife on a couch nearby, Royce spared no words in spilling his raw feelings. He painfully wishes that things could be different.
"I would definitely change this if I could. I want my daughter to be perfect. I want her to blow out her candles on her first birthday. I want to watch her bang her head on our coffee table trying to learn to walk. I want her to run up a cell phone bill texting boys. I want to walk her down an aisle. I want to change it all so, so badly. But I can't. This is our reality. And there's no stopping it."
To his wife, he describes her truly admirable qualities.
"She's TOUGH. She's BRAVE. She's incredible."
Please fill in your e-mail so we can share with you our top stories!