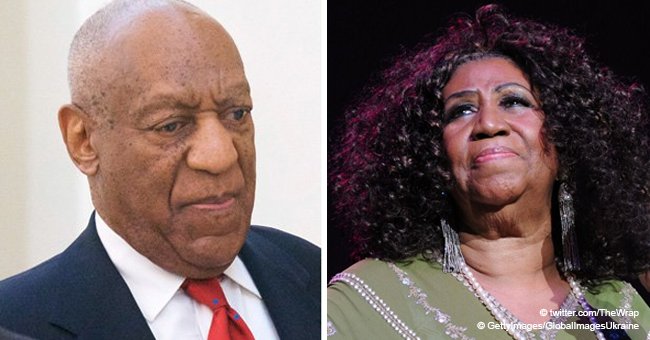 Bill Cosby's Aretha Franklin tribute spreads adverse reaction: 'Wifi must be good in cellblock'

The disgraced actor sparked controversy when he tweeted a tribute to the late singer following the news of her tragic passing on Thursday.
Aretha Franklin passed away in Detroit on August 16, after a long battle with advanced pancreatic cancer of the neuroendocrine type. She was 76 years old. Since the news broke, tributes to the Queen of Soul have been pouring in.
But one particular tribute raised eyebrows. Bill Cosby, who was convicted of in April on three counts of aggravated assault, has been awaiting sentencing in silence, but decided to tweet his condolences when he heard of Franklin's passing.
Franklin sang the theme song on the "Cosby Show" spinoff "A Different World," and he shared a clip of her beautiful voice singing the tune.
On of his few public "appearances" since his conviction drew plenty of attention, with people quickly snapping back at him over the social media site.
While Cosby has been convicted, he is currently out on a $1 million bond as he awaits his sentencing, which is scheduled for late September. In the meantime, he has been forced to surrender his passport to ensure he doesn't leave the US.
Rumors surrounding the actor's behavior towards women have been doing the rounds for years, but the marjority of the accusations had way passed the statute of limitations for rape cases to be tried.
In 2015, a case was opened by former Temple University employee Andrea Constand, in which she stated Cosby had given her pills that had left her incapacitated, and then proceeded to molest her.
The June 2017 trial ended in a hung jury, but found new life after the #MeToo movement later in the year, and April 2018 saw him face a guilty verdict for his actions.
Please fill in your e-mail so we can share with you our top stories!