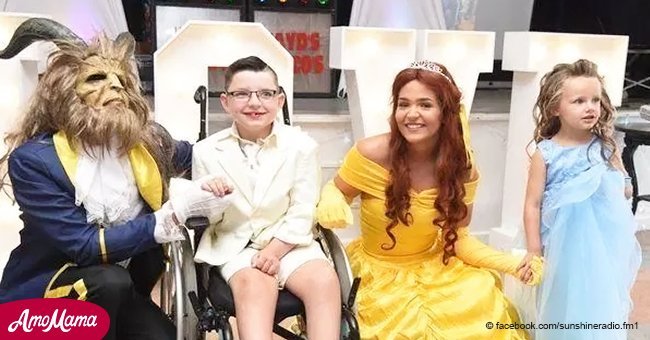 Terminally ill boy 'marries' his mom to fullfil his dream of becoming a prince

A 7-year-old boy "married" his mother in a pretend ceremony. What could be scandalous at first sight is, in fact, an exciting and moving story.
Surrounded by family members and friends, Logan Mountcastle walked down the aisle with his mother, Joelean, in a marriage ceremony at a Gainsborough club in Lincolnshire, England.
As the Daily Mail reported, it's not a scandalous story, but an exciting story: the little boy only has a few years to live, diagnosed with an incurable genetic disease, and his mother wanted to fulfill his dream of getting married before the symptoms of the disease become worse.
For Logan to become a groom for a day, the mother organized a wedding inspired by the story "Beautiful and the Beast," and the guests applauded with tears in their eyes when the boy came to the improvised altar dressed in a white suit with shorts pants of the same color.
For his mother, it was an experience with mixed feelings: "It has been really emotional, I am overwhelmed. I can't get over how many people have come today. 'Family and friends have contributed to make this party such a good event. We've got memories that we will always cherish,"Joelean said.
Read more on our Twitter account @amomama_usa.
His dream was getting married.
"He's always said that he wanted to marry mummy, which I thought was a bit bizarre, but he is never going to get the chance when he is older and he has certainly enjoyed himself."
"And you can tell how much he has enjoyed it. He is overwhelmed. All the children have been excited and counting how many sleeps there were until today. When he watches Beauty and the Beast he was always laughing - now he's got what he wants and any mum would want that." the boy's mother said.
The woman hired a Methodist priest for the formal "ceremony," and instead of the classic oath of marriage, she promised she would always be with him to protect him, reports Daily Mail.
Logan was an ordinary child until last summer when he got sick.
Joelean says the analyses have gone well, and the doctors said he had nothing, but the next day his head started to hurt and had difficulty walking.
The doctors continued to tell him that the little one is fine, then a scan carried out in December last year revealed he suffered from leukodystrophy, an incurable genetic disease that gradually destroys a substance of the nervous system, myelin, leading to the inability to brain function.
Doctors told the mom they could do nothing to save the boy's life. On May 23, doctor analyses showed that the form of cancer that Logan suffers is metachromatic leukodystrophy, which means he can live between three and 15 years. Just last year at this time, he was a normal boy playing in the garden.
Lucy Bognar, the head of a charitable organization, Pride of the Isle, who helps create events and memories for troubled children, said: "Today was something magical. As soon as I learned of this case, I came to the rescue, Joelean said she would love the party to be inspired by "The Beauty and the Beast," so I helped organize the event."
"Obviously it is not a wedding really, it's a family blessing and with promises to look after each other. It was a privilege to be involved," said Louise Carr, the Methodist priest who officiated the ceremony.
Please fill in your e-mail so we can share with you our top stories!