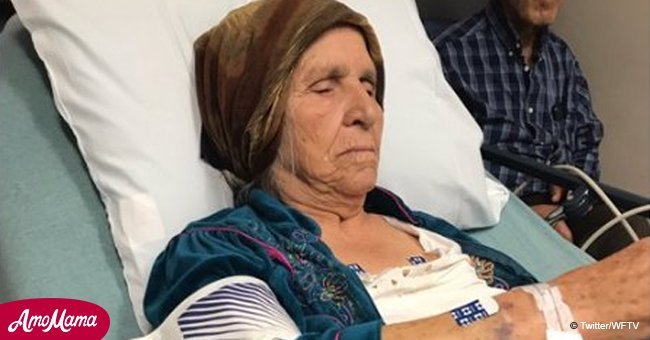 Outrage after police use stun gun on 87-year-old grandma cutting flowers
A police officer used a stun gun on an 87-year-old woman, who can't speak English, after she was seen with a knife. Supposedly, she was only trying to cut some flowers, but the authorities misinterpreted her actions.
The incident that occurred in Georgia caused an outrage among the public, especially from the elderly woman's family.
As for the police, the chief of the department defended the officer who deployed the stun gun, saying they were just following protocol.
According to the chief of police, they were forced to use a stun gun after the woman refused to stand down.
Follow us on Twitter at AmoMama USA for more details and updates.
THE INCIDENT
A police officer was forced to deploy a stun gun on the old woman after she declined to follow the commands ordered by the authorities.
Reports revealed she was asked multiple times to let go of the knife she was using to cut dandelions.
According to the old woman's family, Martha al-Bishara should not have experienced such treatment. They said the result could have been prevented if the police were more patient with the woman.
Speaking with ABC News, al-Bishara's grandson, Timothy Douhne, 24, said, "We have nothing but love for this country, but within that context, we think that what happened is absolutely ridiculous."
"If they had calmed down, deescalated the situation, listened a little bit, we wouldn't be having this issue right now. Unfortunately, that's not what happened," he added.
Douhne suggested that his grandmother told the whole family what happened. At the time, al-Bishara said she was smiling at them to let the police know that she wasn't a threat.
She was only trying to get closer to the authorities to communicate with them. Although, her actions were still misinterpreted.
911 CALLER SAID, "SHE HAS A KNIFE AND SHE WON'T LEAVE."
Chatsworth Police Chief Josh Etheridge exclaimed that the police officer had no choice but to use a Taser on al-Bishara after she disobeyed orders to place the knife on the ground.
Etheridge claimed everything would be clarified once the police body-camera footage will be released.
The police were reported to have received a 911 call from one of the staff at the Boys and Girls Club, who said, "This lady is walking on the bike trail, she has a knife and she won't leave. She doesn't speak English."
The caller was adamant in saying that the elderly woman was not threatening anyone with her knife, as revealed by the 911 call that has been made public.
"Looks like she's walking around looking for something, like, vegetation to cut down or something," said the caller.
THE POLICE SAID, "EVERYTHING WAS HANDLED BY PROTOCOL"
Etheridge, along with another officer, responded at the Boys and Girls Club. He recalled pulling out his pocket knife and throwing it on the ground to demonstrate to al-Bishara what she should follow.
"I felt like everything was handled by the protocol. Of course, we'll still be reviewing this ... to see if there is anything we could have done differently, anything we could have done better," he stated.
Later on, Etheridge added, "No one wants to tase anyone, much less an 87-year-old woman."
AL-BISHARA ONLY SPEAKS ARABIC
al-Bishara had been in the United States for almost 20 years after they left Syria. She doesn't speak English and only communicates in Arabic.
Douhne said her grandmother became a naturalized U.S. citizen in 2001. She, along with her 96-year-old husband, had been living across the street from the Boys and Girls Club.
The grandson claimed his grandmother only went to the club to gather dandelions that she was planning to use in a traditional Arabic dish.
THE ARREST
al-Bishara was held at the police station for around three hours. She was arrested after she was suspected of misdemeanor criminal trespass and obstruction of an officer.
At the station, the police did not allow Douhne's mother and sister to interpret for al-Bishara.
Eventually, al-Bishara was released, and the family took her to a local hospital, where she was treated for her body pains and bruises.
Meanwhile, in Miami, a female police officer was arrested after she kicked a pregnant woman in the stomach, which caused her to give birth at only eight months.
Please fill in your e-mail so we can share with you our top stories!