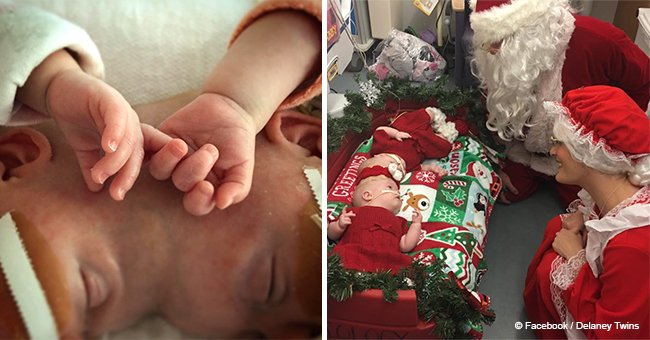 Formerly conjoined twins separated by rare procedure live a happy life now
Erin and Abby Delany were joined together at the tops of their heads, making the procedure for the separation extremely complicated and spent more than a year in the hospital after their birth.
Erin and Abby were born on July 24, 2016, in Philadelphia to Heather and Riley Delany and had spent the first 485 days of their lives at the Children's Hospital of Philadelphia.
The twins now live a life surrounded by their loved ones, and their parents have a Facebook page dedicated to the girls that document their everyday life.
Read more on our Twitter account @amomama_usa
Heather and Riley found out that their twins were conjoined at the 11th week of Heather's pregnancy. Though it came as a shock to the couple, they were more than ready to take on the responsibility of raising the girls, according to Wetpaintlife.com.
The doctors had forecasted that the birth of the identical twins would be problematic because twins who are conjoined at the head often experience extra problems as they share the brain tissue.
After the birth, separating the two girls turned out to be one of the most complicated procedures that the Children's Hospital of Philadelphia had ever undertaken.
It took a team of at least 30 medical staff to perform the procedure and the group composed of the same type of specialists for each of the girls, according to Jumble Joy.
After hours of hard work and the incredible skills of the surgical team, the twins were finally separated, and the surgery was a success.
After the surgery, their mother, Heather, said, "They are such happy, content little girls, for what they've gone through. They've never lived outside of hospital walls."
Five months after their surgery, the girls were allowed to go home, and they were overjoyed with the news because their girls would finally be able to live a healthy life.
At one point when it was impossible to hold the girls separately, they had never been able to roll over or sit up on their own.
Months after their surgery, Erin was the first one to sit up without any assistance, and Abby learned to roll over.
The girls have shown a vast amount of strength to live a happy life with their family and continue to grow. The twins celebrated their second birthday on July 24, 2018.
Please fill in your e-mail so we can share with you our top stories!