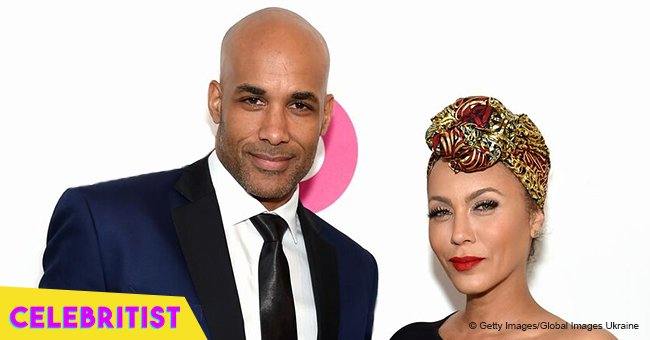 Boris Kodjoe melts hearts while dancing salsa with wife Nicole Ari Parker in throwback video

Boris Kodjoe and Nicole Ari Parker showcased their undeniable chemistry as they danced the salsa in a throwback video Boris shared recently.
A video of Boris Kodjoe and Nicole Ari Parker proves they're not just husband and wife, but they're dance partners for life. The throwback clip didn't just feature the couple exhibiting their amazing skills on the dance floor but they were heating it up as well with their sensual connection.
Boris and Ari celebrated 13 years of marriage a few months ago and the actor even cited 13 ways he loved his wife in a heartfelt message he penned for her on their anniversary. Ironically, he also used dance as a metaphor to describe their relationship when he added,
"For we are doing our own dance, a mysterious and adventurous one, God blessed and favored, through sickness and in health, in joy and in pain, and there's no one I'd rather share this beautiful dance with than you."
Boris was spot on when he described their marriage as a beautiful dance. That's what they showcased in the throwback video he shared.
The couple were experts on the dancefloor who matched each other's moves. They danced like they've been dancing together their whole life and they were perfectly in sync. Ari was dressed in a skimpy gold mini-dress with fringes flowing with her every move. Her husband wore a white shirt and a loosened tie as he expertly led his wife through twists and turns. Their sexy number threatened to reveal Ari's breasts at one point while she shimmied against her husband's chest. But she showed no sign of worry as she continued to dance to the upbeat music.
"#fb to us setting the tone for 2018," Boris wrote. This would mean their dance number occurred around the New Year. What a party it must have been with the couple clearly enjoying themselves.
Boris and Ari met on the set of their former Showtime series 'Soul Food' which was born out of the 1997 film of the same name. Ari recalled thinking what a hot guy Boris was when she first met him and he was going to play her boyfriend. Later, the couple connected and got comfortable with each other. Though Boris' character was written off the show, their love continued off the set. They wed in 2005 and now have a daughter, Sophie, and a son, Nicolas.
A few years back, Ari opened up about the secret to their strong union and she said she makes it a point to treat her husband like her boyfriend. On Boris' part, he also once said they "make it a big effort to keep it sexy." That includes going out on dates, working out together and looking good for each other.
Married couples can learn a thing or two from this couple who are clearly enjoying themselves dancing their way through life.
Please fill in your e-mail so we can share with you our top stories!