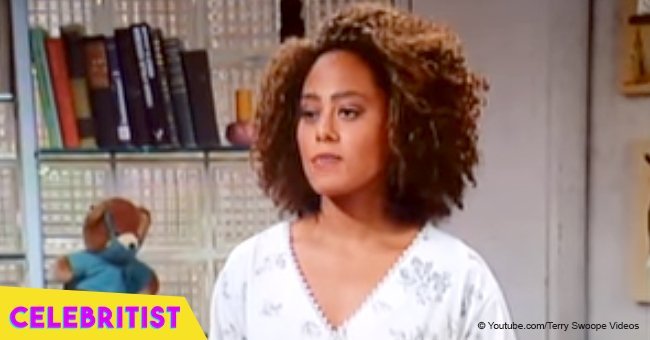 Remember Freddie Brooks from 'A Different World'? She shares photo with husband and kids

"A Different World" left our screens 25 years ago, but fans of the free-spirited Freddie Brooks, played by Cree Summer, continue to stay updated about her life. Summer recently shared another picture of her brood with fans, and we can safely say the rumors about them aren't true.
Summer, 49, shared a photo of her family cuddled up in what looks like a restaurant booth. The talented voice artist, looking quite trendy in cornrows and oversized glasses, was seated next to her husband, Angelo Pullen. Both parents each had a child on their lap as the entire family looked toward the camera. In true Cree Summer fashion, she labeled her brood:
"My Circus. My Freaks"
Judging by the smile on her face, the American-Canadian actress, and her husband are nowhere close to getting a divorce, as some reports claimed a few years back. The reports alleged that the couple had drifted apart and were only going through the motions of marriage for the sake of their children. Summer was rumored to be having an affair that was the cause of the rift.
At the time, both Summer and Pullen refused to address the rumors, and now, all seems well with the Summer-Pullen clan.
Summer, who has voiced over a hundred animated characters, tied the knot with Pullen after breaking up with her longtime boyfriend, director, Kadeem Hardison. She and Pullen welcomed their first child, Brave Littlewing in March 2011 and their second child, Hero Peregrine, was born in February 2013.
Despite being an active mom, Summer continues to pursue her career. After starring in "A Different World," Summer went on to appear in a few other films and series. The bulk of her work, however, lies in voice-acting, where she has lent her distinctive, throaty voice to hundreds of animated movies, series, and video games. She said of her voice in an interview:
"I was an only child for 10 years, I didn't start school until 8, and I didn't have a TV for years. So I found all these voices when playing with my toys. They're really my toys' voices."
Please fill in your e-mail so we can share with you our top stories!