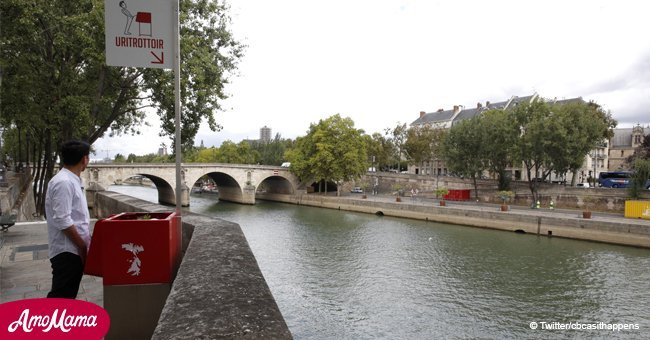 Bizarre or brilliant? Public urination in Paris has forced the city to install open-air urinals

When in Paris do as the French do. Or maybe not.
Visitors to the romantic City of Lights may get to see a lot more then they bargained for, an added peek at Parisian real life.
In order to control the lamentable habit of men peeing in public, the city installed bright red "uritrottoirs" everywhere, reported Paris.fr.com.
"Uritrottoirs" are meant as an eco-friendly alternative to men peeing in public against walls, trees or in alleys.
The "uritrottoirs" look like ornamental planters, with greenery filling the top. A closer look will discover a sign that directs the eyes to a urinal. There are no privacy shields, only a slight U-shaped catcher.
"It is definitely a desirable and historic neighborhood, but seeing people urinating right in front of your door is not the nicest thing."
Paola Pellizzari, CNN, 14th of August 2018.
Unfortunately for the tourists and residents of the city, the "uritrottoirs" are not tucked away discreetly. They are installed in some of the most emblematic areas of Paris, so visitors strolling through the historic cities, drinking in the sights, may just see more than they bargained for.
One of the "uritrottoirs" is on the romantic Ile Saint-Louis, near the Notre Dame cathedral in full view of tourists boating on the Seine.
Read more travel news on our Twitter account @amomama_usa.
Authorities defend that it is more salubrious to have urinals rather than subject visitors to the acrid reek of urine on the streets.
The company that manufactures "uritrottoirs" explains that the receptacles wherein the urine is 'deposited' are filled with straw, and can be used for compost after decomposing for a year.
The utility is declared to be odor-free, and is offered in a variety of shapes and sizes.
The French have been fighting what they call "wild peeing" for years in their capital city. In 2016 "incivility brigades" were created to enforce fines for men peeing on the streets, but the measure had no impact.
Paris is a "must-see" destination for every dream-traveler, and the streets are thronged with celebrities, movie stars, and singers from all over the world, like the Obamas, Celine Dion, the Kardashians, and Serena Williams.
Daily Mail: Malia Obama spotted in Paris with a $495 bag
Serena Williams' husband melts hearts with photo of his wife and daughter at the Paris zoo
Please fill in your e-mail so we can share with you our top stories!