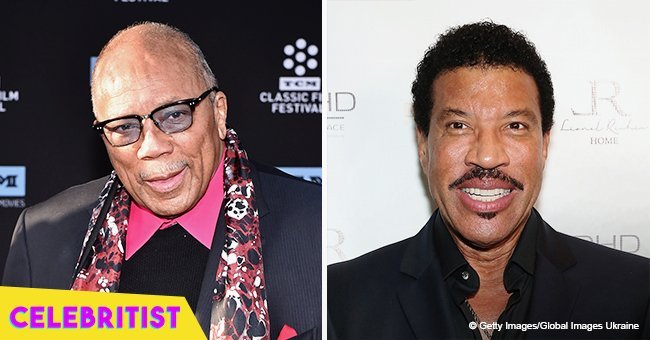 Quincy Jones' daughter melts hearts cuddling Lionel Richie's little girl in sweet throwback pic
Lionel Richie's daughter Nicole Richie shared a sweet throwback picture of herself and longtime best friend, Rashida Jones. Jones, the daughter of music legend, Quincy Jones also shared a similar photo with a loving message.
Jones was pictured wearing a blazer over a white turtleneck, ice-cream cone in hand, and cuddling younger Richie. The younger girl's tresses were pulled back with a pink "bunny ears" headband.
Richie accompanied her post with a heartwarming request to her friend:
"Dear @rashidajones please hold me now like you held me back then #tbt"
Jones shared a slightly different version of the same picture. This time, both girls were smiling towards the camera, Richie's grin the wider of the two. The "Parks and Recreation" actress added an endearing description:
"#tbt to me and this little bunny @nicolerichie"
Jones and Richie owe their closeness to their fathers' relationship. Quincy Jones, or "Q" as he's sometimes called, is a legendary film and music producer. Lionel Richie is one of the most celebrated singers the world has known. Both men worked together on several projects and shared a close friendship which naturally rubbed off on their girls.
In an interview last year with Refinery29, the women talked about how they make each other happy. Richie, 36, said:
"Not only do I not look at myself as an adult, I don't look at you as one. I do in the sense of, I'm so proud of you and everything that you've accomplished, and it's so amazing. But when I'm talking to you, it's like I'm 18 again, and we're sneaking into our rooms to break it down over the phone."
Jones, 42, quite pleased to hear her friend compare her to an 18-year-old, replied:
"Thank you for saying that you don't think of me as an adult. Because sometimes I feel so adult that there's no going back. So I'm happy to hear that you can still see that part of me."
And the "Great News" actress was quick to add:
"I have those areas too, yes. When I'm just hanging with you, I feel — actually, I feel my youngest."
Jones and Richie famously broke a world record together in 2015. After trying virtually everything to get their names in the Guinness World Book of Records, the two besties finally succeeded with achieving the "Most Hip-Hop Dance Moves By Two People Wearing a Single Sweatsuit In One Minute." Watch them break the record in this video.
Please fill in your e-mail so we can share with you our top stories!