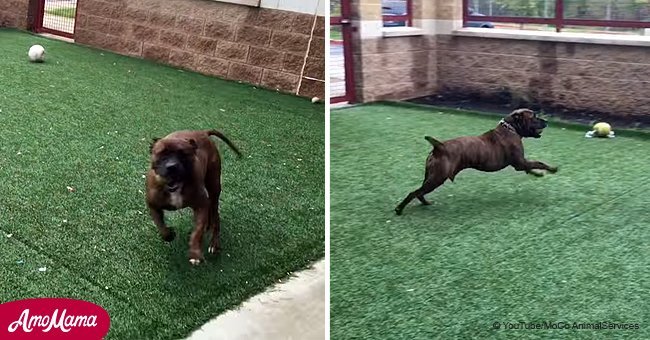 Happy ending for shelter dog who would not stop crying
It seems that there's a happy ending for the dog that became viral after he was crying due to the stress caused by living in a shelter.
The bullmastiff mix named Juice was ecstatic when he found out that he was going to be adopted by new parents. In a new video of him, Juice happily ran around as his new owner played with him.
Juice had been living in a shelter for almost 10 months, and it seemed to take a toll on him.
Supposedly, he was getting depressed.
Follow us on Twitter at AmoMama USA for more animal-related stories and videos.
Maryland's Montgomery County Animal Services & Adoption Center (MCASAC) revealed that Juice used to be happy and was able to manage the stress of shelter life well in the past.
Although, just recently, Juice started to change, as revealed by the staff of the shelter in a Facebook post.
At the time, he was the longest resident at the shelter. It soon came to an end when he was adopted by a family.
Unfortunately, the family returned him to the shelter after just a few days.
"It wasn't the right match, and after a couple of days, he was back in his kennel, more stressed than ever. Staff started to notice him crying, panting and pacing more often," wrote the staffers on the post.
One of the staffers decided to take Juice home for a night so he could take a break from the shelter life.
The next day, when Juice realized that he was going to be brought back to the shelter, he began to cry. For that entire day, Juice was emotional and was in deep sorrow.
"Living in a shelter is not a life, and we're afraid that Juice is beginning to lose himself. He needs a home, where he can be himself and regain the confidence and trust that he has lost," the post continued.
The staffers took a video of Juice while he was crying to convince others that he needed a home. Soon enough, the video became viral, and it wasn't long until inquiries started pouring in.
Many families from all around the globe wanted to adopt Juice, and just recently, the dog finally found the perfect family for him.
The excitement he showed as his new parents brought him home was priceless.
In another dog-related story, a female pup had her favorite song played on the radio. Suddenly, she started dancing and stole the show.
Please fill in your e-mail so we can share with you our top stories!