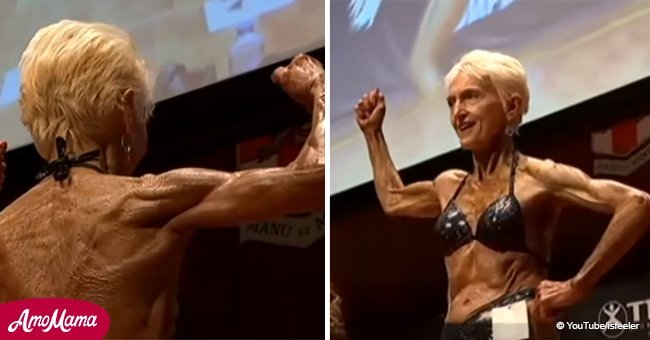 Bodybuilding grandmother proves that you're never too old to start something new
75-year-old Janice Lorraine is setting an example for many by becoming the oldest bodybuilder in Australia and she has no plans of stopping anytime soon.
According to Daily Telegraph, when Lorraine first entered into bodybuilding in the late 90's, the industry was dominated by male. She opened up to the source about her early struggles.
"The males treated me with slight regard and as somewhat of a nuisance. In fact, they'd often stand over me," she told Daily Telegraph. Fortunately, she found an older male trainer, only marginally younger than her, who offered to train her.
Fifteen months of intense training later, the trainer told her of a bodybuilding organization that didn't allow drug enhancement.
Follow us on Twitter to learn more.
She trained hard and competed in the International Natural Bodybuilding Association in Sydney and that is how it all began for her.
In 1998, she also began doing the aerobics followed by weight resistant training. Finally, at the age of 55, she took up bodybuilding.
Lorraine explained that ever since that day, she has remained one of the eldest bodybuilders in any competition. Although she admitted that it was now common to have over 50's and 60's category.
In any case, she is the only one who is doing professional bodybuilding in their 70's in natural, bodybuilding competitions.
The grandmother of three, who grew up in Granville, Sydney, has so far won 23 titles, the latest of which she bagged last year winning the World Amateur Natural Titles in Phuket.
Speaking about why she continues to do bodybuilding, she told the source, "My aim is not to rival those younger than me. My aim is to show what's possible and to motivate and encourage women of any age, to live the life they want to live and not be bound by traditional stereotypes and roles and the expectations of others."
She has further set an ambitious target for herself of participating at the end of 2009, just a few time after she turns age 77.
It is women like Lorraine who are proving to the world that age is just a number and that it's never too late to start doing what you like.
Just like her, 80-year-old Livia Flego also proved that age is never a limit for doing what you like. She volunteered for a project of her granddaughter, Tea, and agreed to do a sensational makeup that took always 20 years from her face.
Please fill in your e-mail so we can share with you our top stories!