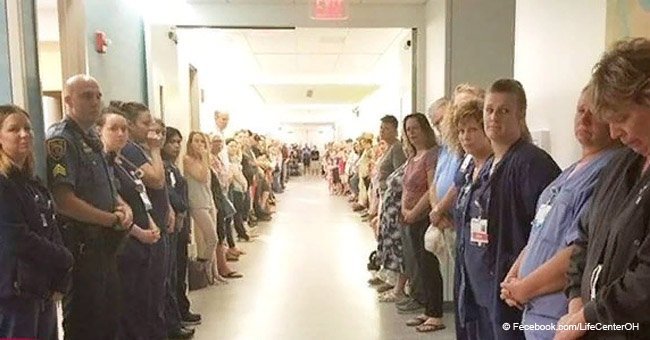 Grieving family and doctors line hospital halfway to honor father whose organs saved 50 lives

Cletus Schnieders choice of donating his organs in the event of his death ended up being a source of strength and hope for his surviving family, and his heroic decision was honored in an "honor walk" that has gone viral.
Schnieders passed away at the hospital on June 19 after choking with food at home while he was having dinner with his family, leaving them devastated at his sudden death, as Babble reported.
"Clete," as his loving widow Carrie used to call him, had manifested his desire of becoming an organ donor, and now she had to honor his wish. Read more on our Twitter account @amomama_usa.
When Carrie went through all the details to allow the doctors to perform surgery on Cletus's body to save his organs for donation, she never imagined what the hospital's personnel had planned to show their respects for her late husband.
As they took Clete's husband down the aisle towards the operation room, more than a hundred employees from the medical center stood in the hallway to thank the family for granting an opportunity to several people in need.
"I would thank him. For just giving me the gift of life. I can complete and do what I want to do. It is us now."
-John Mock, WLWT, July 18, 2018.
Carrie captured the image of the "honor walk" given to the memory of Cletus and shared it on Facebook with a heartfelt caption, and it became an instant viral phenomenon.
"The honor walk was so overwhelming with all of the people who came out to support Clete. I can't believe how many people care about us. The nurses said this is the biggest crowd they have ever seen," Carrie wrote.
With her post achieving viral status, Carrie saw its comment section getting filled with messages that celebrated her courage and her husband's altruistic spirit, and this turned out to be an unexpected source of solace for her.
"Recipient stories were honestly the only thing keeping me going after those first few days of losing Clete," she admitted.
Inspired by this and learning that a man successfully received Clete's liver getting a second chance to live, Carrie had the idea of contacting this man, calling the LifeCenter organization to plan a meeting.
The recipient, named John Mock had also expressed his will to meet the family of the man who saved his life.
"I wanted to thank this family for saving my life — I would be dead without them — and offer my condolences," Mock told Yahoo Lifestyle.
The emotional meeting took place at LifeCenter, in Cincinnati. Cletus's wife and three children, as well as his parents and step-parents, were present at the reunion of this two families who had gone through so much.
"After the first two minutes, it felt like we had known each other forever, just like a real family," Mock said.
But Mock was not the only one who was granted a new chance thanks to Cletus's donation. In the end, Cletus's kidneys, tissue, and cornea, apart from his liver, benefited 50 other people.
After giving so much life to people they had never met, the Schnieders's are needing financial help after having lost their breadwinner.
Cletus and Carrie's daughter Samantha has Down syndrome and they have to cover her expensive therapy appointments, so a family friend set up a GoFundMe page to lend a hand to the Schnieders's.
Please fill in your e-mail so we can share with you our top stories!