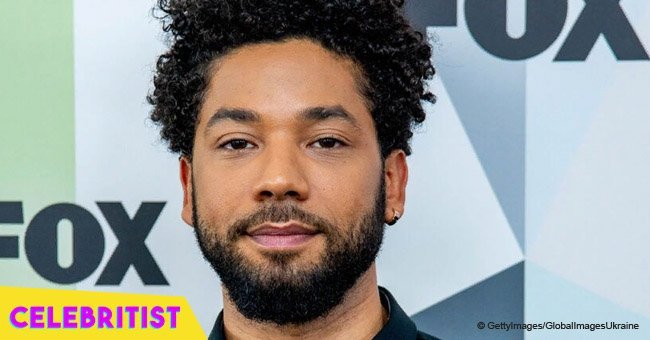 Openly gay Jussie Smollett once admitted he could 'fall in love with a woman'
Despite playing a gay, black musician on the hit show, "Empire," Jussie Smollett remained incredibly secretive about his sexuality for years. After setting the record straight, he admitted that a label can't determine whom he'll fall in love with, and that includes women.
He first discussed his sexuality on "The Ellen DeGeneres Show," saying that he had 'never been in the closet, but instead he preferred to keep his private life out of the spotlight. In that first interview, he wasn't that clear with his words. But a few months later he said to Out magazine: "If I had to label myself, I would label myself as a gay man."
He went on to reveal his beliefs on love.
"I would hope that people would not close themselves off from what could be if, lo and behold, you meet somebody that just sweeps you off your feet, and you just can't do anything about it," said the actor. And continued:
"If we truly believe that we are born this way, then why do we try to stifle the way we were born? If I fall in love down the road with a woman, I'm going to love that woman."
Smollet, an idealist at heart who believes in the good of the humanity, has a broad view about the world and love that not many people can understand, but that he tries to convey through his music, his words, and his work in and off screen.
He said:
"You're not going to tell me that loving someone is wrong. That does not mean that heterosexuality is not very real. It does not mean that bisexuality is not very real. It does not mean that homosexuality is not very real. They are all very real. But what I'm saying is, I am a gay man. I am a gay man. I am a gay man. I don't know how many times I have to say that."
Off the screen, the 35-year-old handsome actor is an activist who has a genuine desire to use his music as a platform to change the world, tackling social issues that some people no longer want to talk about.
When he started in "Empire," he was met with resistance from some of the producers of the show, who were afraid the ratings of the show would go down if Smollett showed his activist nature.
He did it anyway. Joining the March 2 Justice in 2015 despite all the warnings he got.
He said:
"You mean to tell me just because I make movies and TV and music that I can't talk about what's going on in the world I live in? Really? That's not fair. Forget that. Because I'm scared that maybe viewership is going to go down? [...] At some point, I was going to say what I believe anyway."
Together with his longtime mentor and fellow activist Phil Wilson and the Black AIDS Institute, Jussie has started a crusade against the disease that has plagued the black gay community for ages. He's also joined LGBTQ+ movements, educational programs and has shown his support to the parents of victims of police violence publicly.
Please fill in your e-mail so we can share with you our top stories!