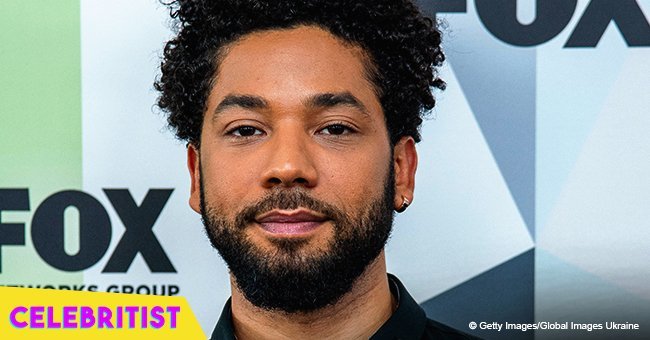 Jussie Smollett melts hearts with picture of his two look-alike brothers

By now, Jussie Smollett is probably used to attention from his fans, especially the ladies. This time, however, it is his baby brothers, Jake and Jocqui, who are melting hearts across the internet. They are also not the only siblings the star has.
The Empire star shared a picture with his two brothers on his Instagram. The trio's location reads "Yucca Valley, California" and Jussie can be seen carrying a backpack in the snap. The caption read:
Never miss a birthday celebration for a #Leo. You'll never hear the end of that shizz. Desert living with my Leo baby bros @jakesmollett (July 29) & @jocquismollett (August 1). Love these fools so much. Back to #Chicago. #LeoSeason #Brothers
Immediately the post went up, comments came rolling in, most of them centered around how cute the Smollett brothers are.
Instagram user @authoregweeks commented: "Damn! Those #smollettgenes #jussiesmollett"
Also commenting on their good looks, @jackie.sackaney1 said: "Happy birthday to your brothers .. such a handsome group of men"
Commending Jussie, one fan @cjmarieofnc commented: "What a cool big brother...no matter how busy you may be you always have time for family!! @jussiesmollett Wish I had a brother like U"
The Smollett siblings are very close as can be seen from their individual social media pages. Although Jussie is very famous, thanks to his role as 'Jamal' in Empire, the Smollett family is one big bunch of talent. Jussie has five siblings- Jurnee, Jake, Jocqui, Jojo, and Jazz.
As children, they never really lived in one place for very long because all of them were pursuing various careers in the entertainment industry. Their mother, Janet, tirelessly worked to manage her children's jobs and would act as their acting coach.
Their closeness has remained over the years, and just last month, the siblings came together to work on a project created by Jurnee and Jake- a cookbook.
The siblings were the cast of ABC's 1994 sitcom, 'On Our Own' which was shortlived.
Please fill in your e-mail so we can share with you our top stories!