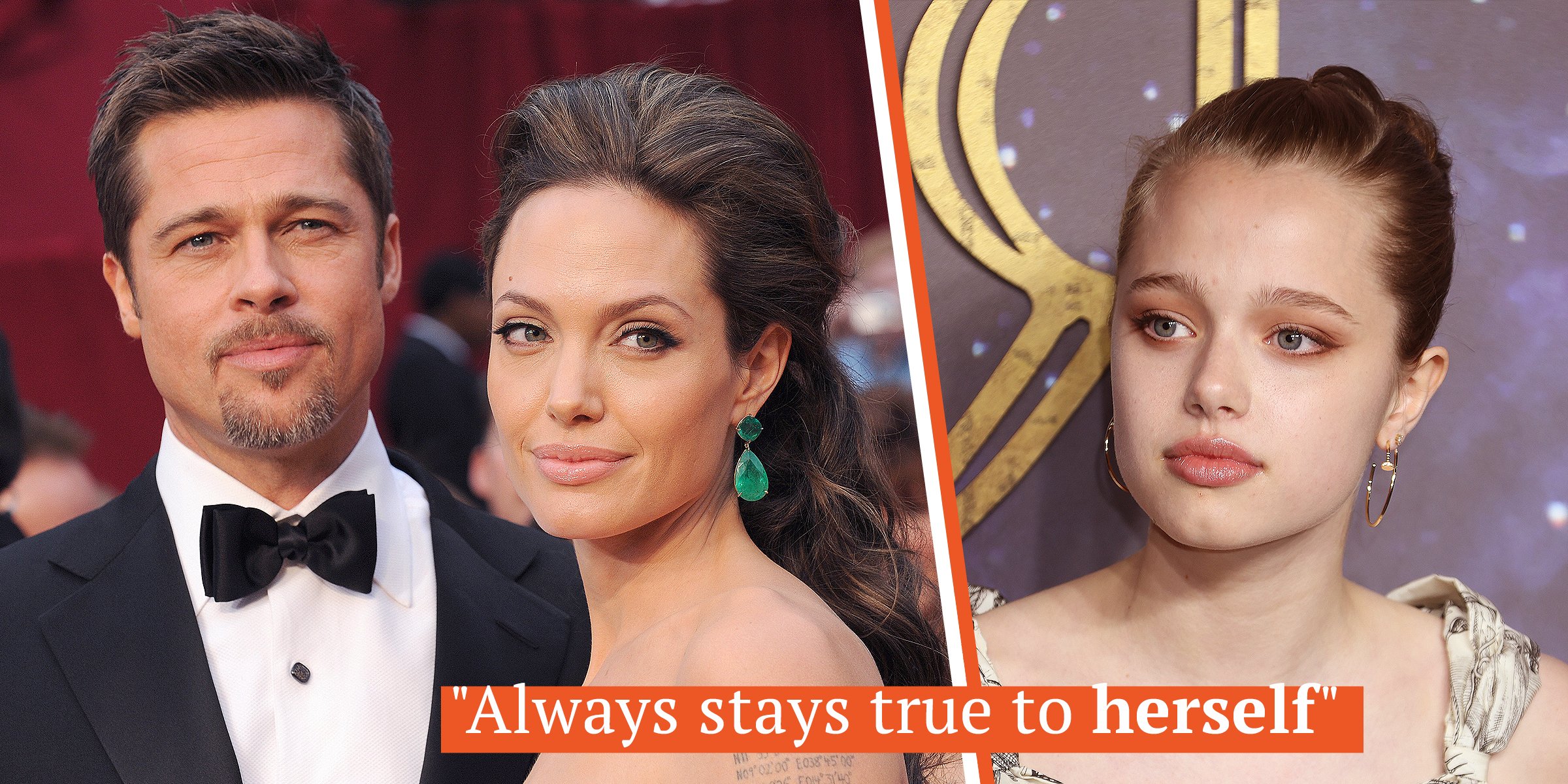 Angelina Jolie & Brad Pitt | Shiloh Nouvel Jolie-Pitt | Source: Getty Images
Angelina Jolie & Brad Pitt's Tomboy Daughter Shiloh Is Now an Exquisite Style Icon
Angelina Jolie and Brad Pitt's daughter, Shiloh Jolie-Pitt, has been a subject of interest since she was born. Now, she is gradually becoming her own woman in the celebrity world.
When Angelina Jolie and fellow star Brad Pitt first welcomed their daughter, Shiloh Jolie-Pitt, her birth caused quite a stir. Shiloh had been born in the town of Swakopmund, Namibia, and fans were filled with excitement.
"People" exclusively shared the official birth photos, and the news franchise also covered the length and breadth of the story. Shiloh was born on May 27, 2006, joining siblings Maddox, Pax, and Zahara. Here's a look through her young life so far.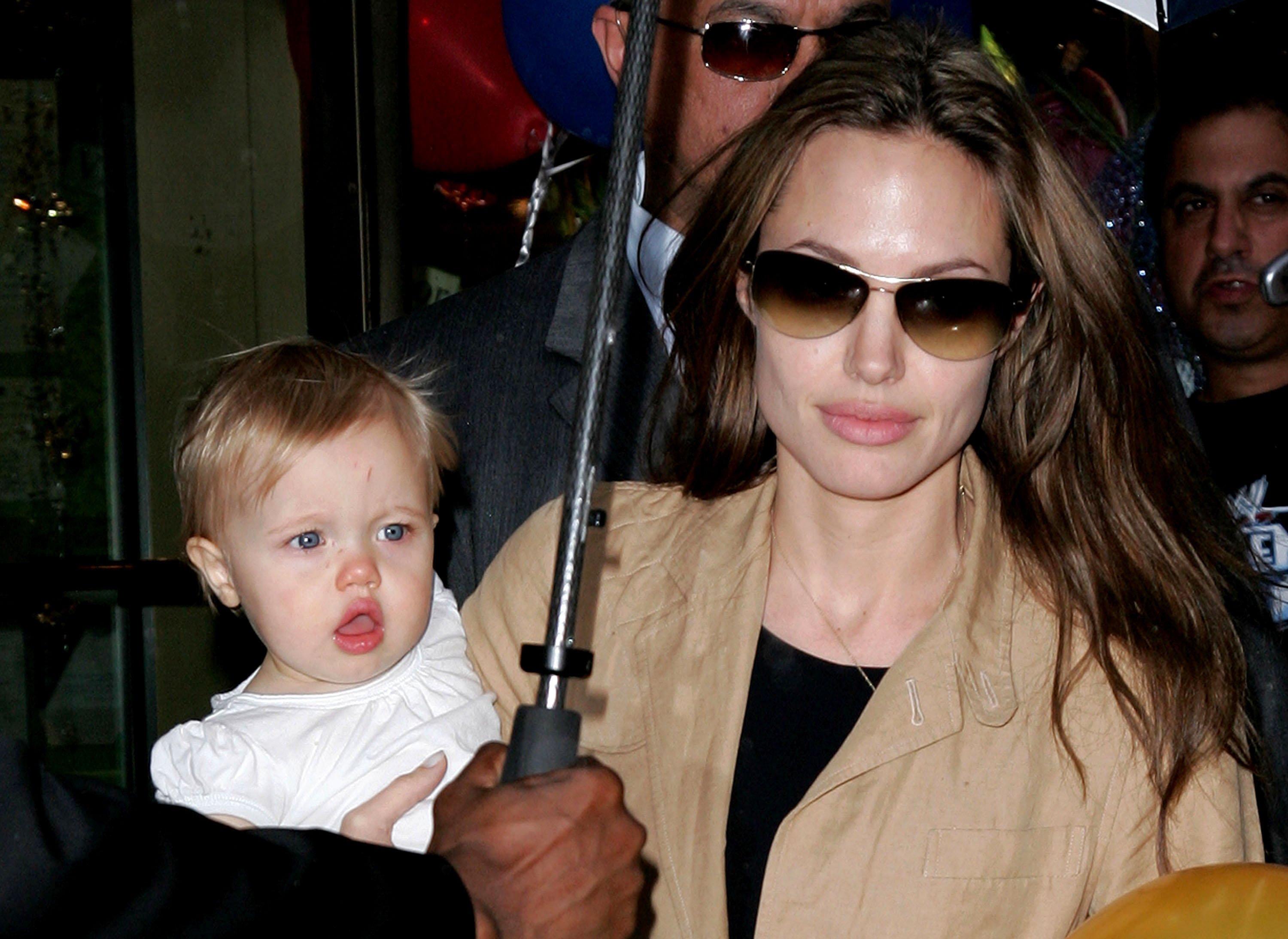 Angelina Jolie and Shiloh. | Source: Getty Images
Brad Pitt had been right beside his ex-wife when they first had their daughter. Although she already had siblings, Shiloh was her parents' first biological child.
According to Jolie's brother, James Haven, it had been overwhelming to see how Brad and his sister doted on their newborn daughter. Shiloh already had her dad's eye color at birth, but the pouty lips were unmistakably Jolie's.
Haven had visited the hospital in Namibia alongside Jolie's oldest, Maddox, who immediately launched into big brother mode.
Maddox was said to have imitated his dad while carrying little Shiloh. Jolie had particularly prepared him for his little sister's arrival, and he understood what was happening.
Brad's parents, Bill and Jane Pitt, flew to Namibia to get the first look at their granddaughter. Jolie's mom, Marcheline Bertrand, also expressed her happiness about the arrival.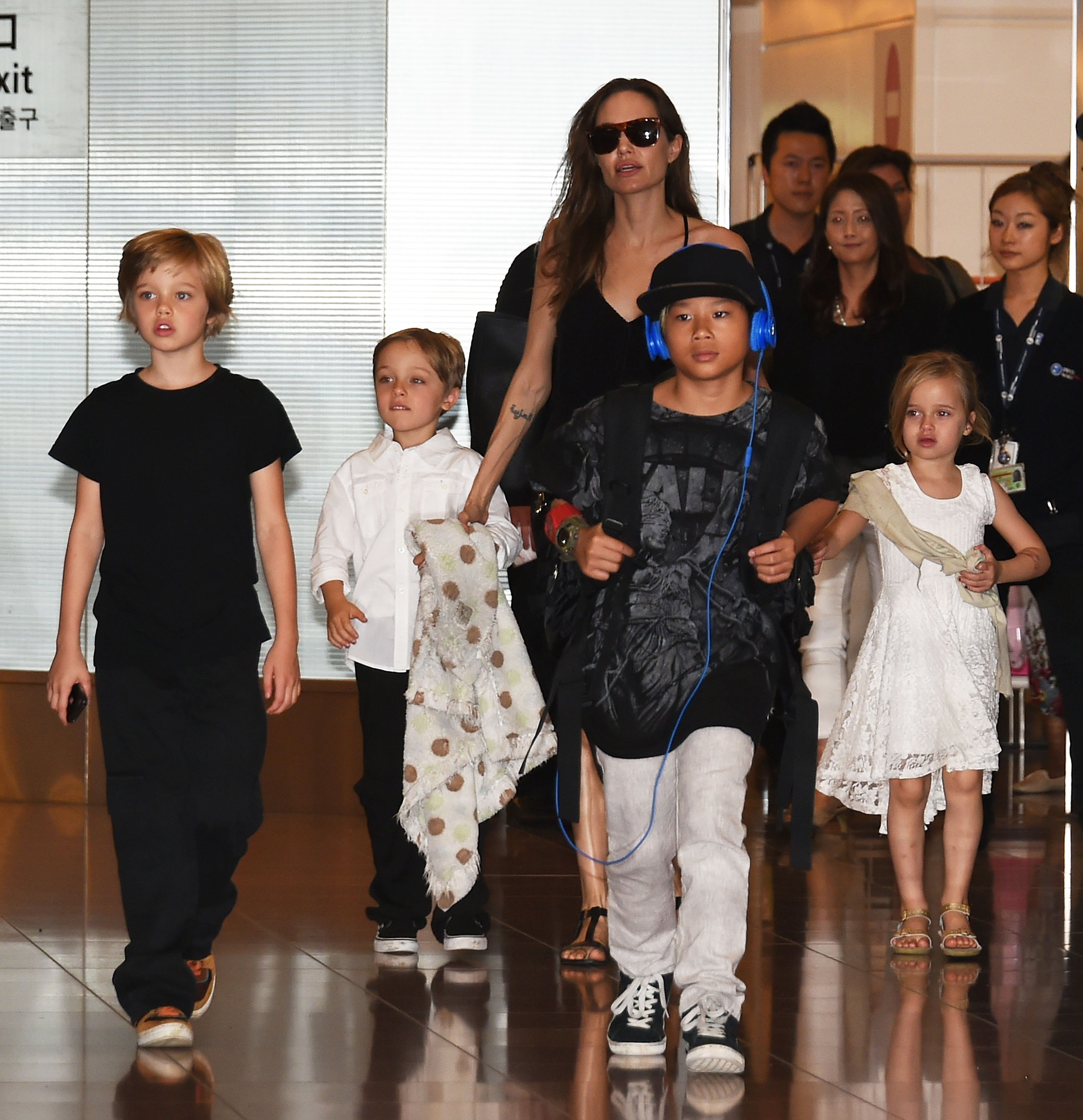 Shiloh Jolie-Pitt, Knox Jolie-Pitt, Angelina Jolie, Pax Jolie-Pitt and Vivienne Jolie-Pitt are seen upon arrival at Haneda Airport on June 21, 2014 in Tokyo, Japan. | Source: Getty Images
Jolie's Twins Are Born
Two years after Shiloh entered the world, her younger siblings Knox and Vivienne joined the big blended family. The twins, delivered by Dr. Michael Sussman, had been born via C-section just like Shiloh.
Brad maintained his position as an unwavering supporter, giving Jolie all the strength she needed as her belly was opened to usher in their twin boy and girl. According to Sussman, the pair were born healthy, weighing 5.03 lbs and 5lbs.
Once speaking about her kids in a Vanity Fair exclusive, Jolie gushed over Shiloh, noting that she was "hysterically funny" and is one of the most playful people. She also spoke of Maddox's intellect and Zahara's beautiful voice.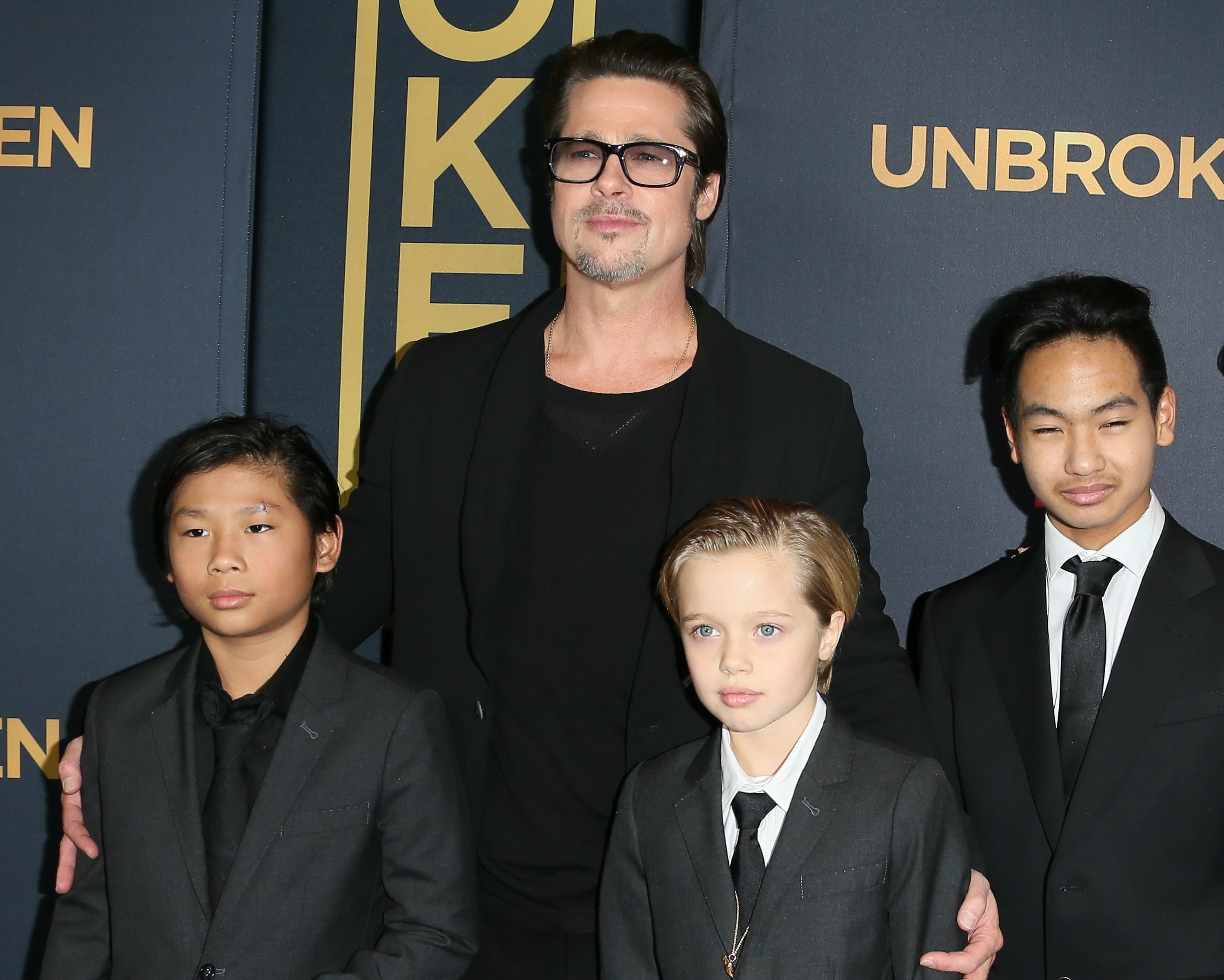 Brad Pitt, Pax Thien Jolie-Pitt, Shiloh Nouvel Jolie-Pitt and Maddox Jolie-Pitt attend the "Unbroken" Los Angeles premiere held at the TCL Chinese Theatre IMAX on December 15, 2014 in Hollywood, California. | Source: Getty Images
Watching her daughter, the "Salt" actress could decipher how much they were alike. She stated that she was much like Shiloh while growing up. Jolie shared:
"Goofy and verbal, the early signs of a performer. I used to get dressed up in costumes and jump around."
At another time, Jolie stated that Shiloh physically looked like her dad. However, she sweetly spoke of the youngster's features, noting that she could be the "family's outcast." This was due to Shiloh's blonde and blue eyes.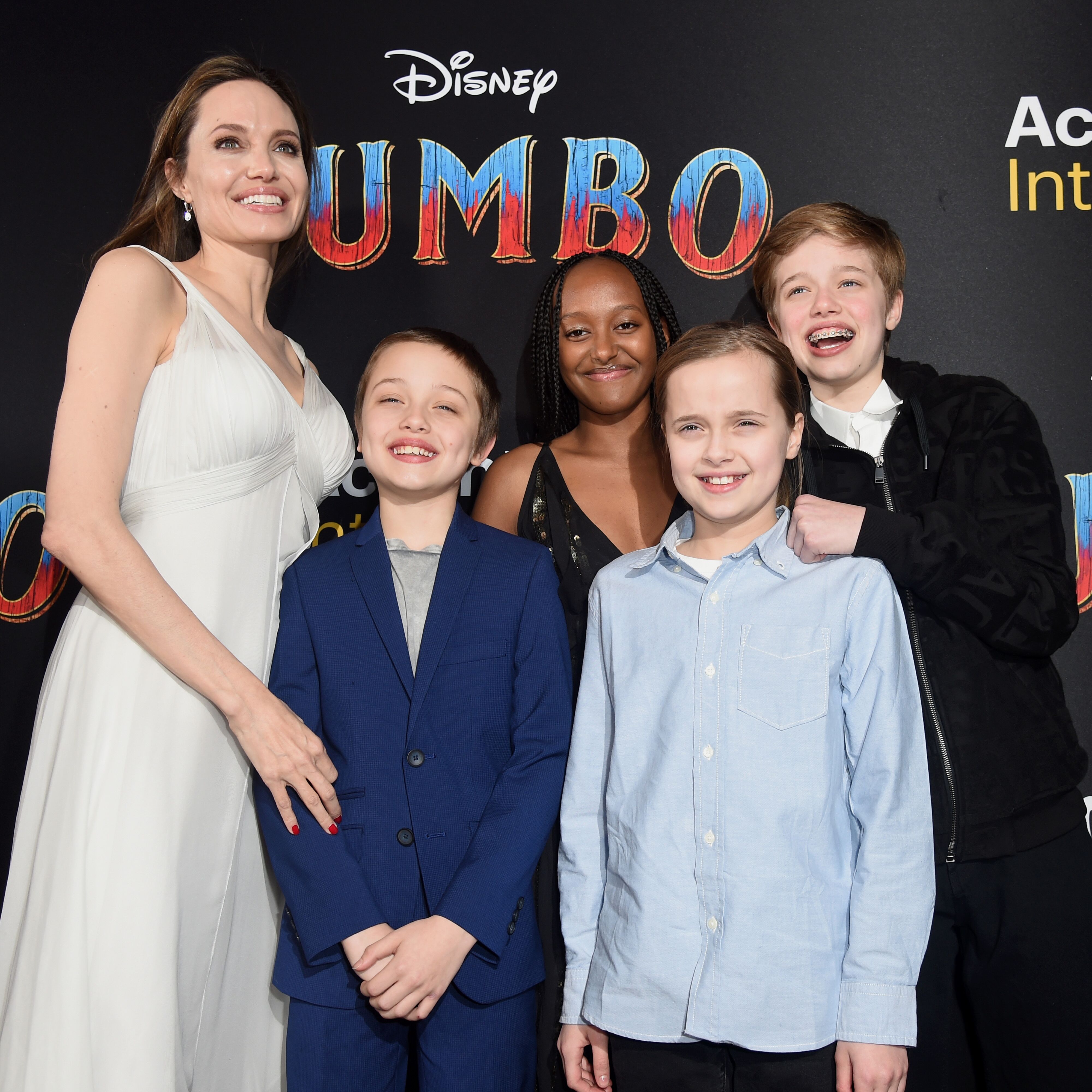 Angelina Jolie, Knox Leon Jolie-Pitt, Zahara Marley Jolie-Pitt, Vivienne Marcheline Jolie-Pitt, and Shiloh Nouvel Jolie-Pitt attend the premiere of Disney's "Dumbo" in 2019 | Source: Getty Images
In the same interview, Jolie shared some of her reservations about her blended family. She recalled initially not wanting a biological child after adoption. However, after seeing Brad with Zahara and Maddox, she knew a biological child would not be a threat. She stated:
"Shiloh seemed so privileged from the moment she was born. But I'm conscious that I have to make sure I don't ignore her needs, just because I think the others are more vulnerable."
Shiloh's Formative Years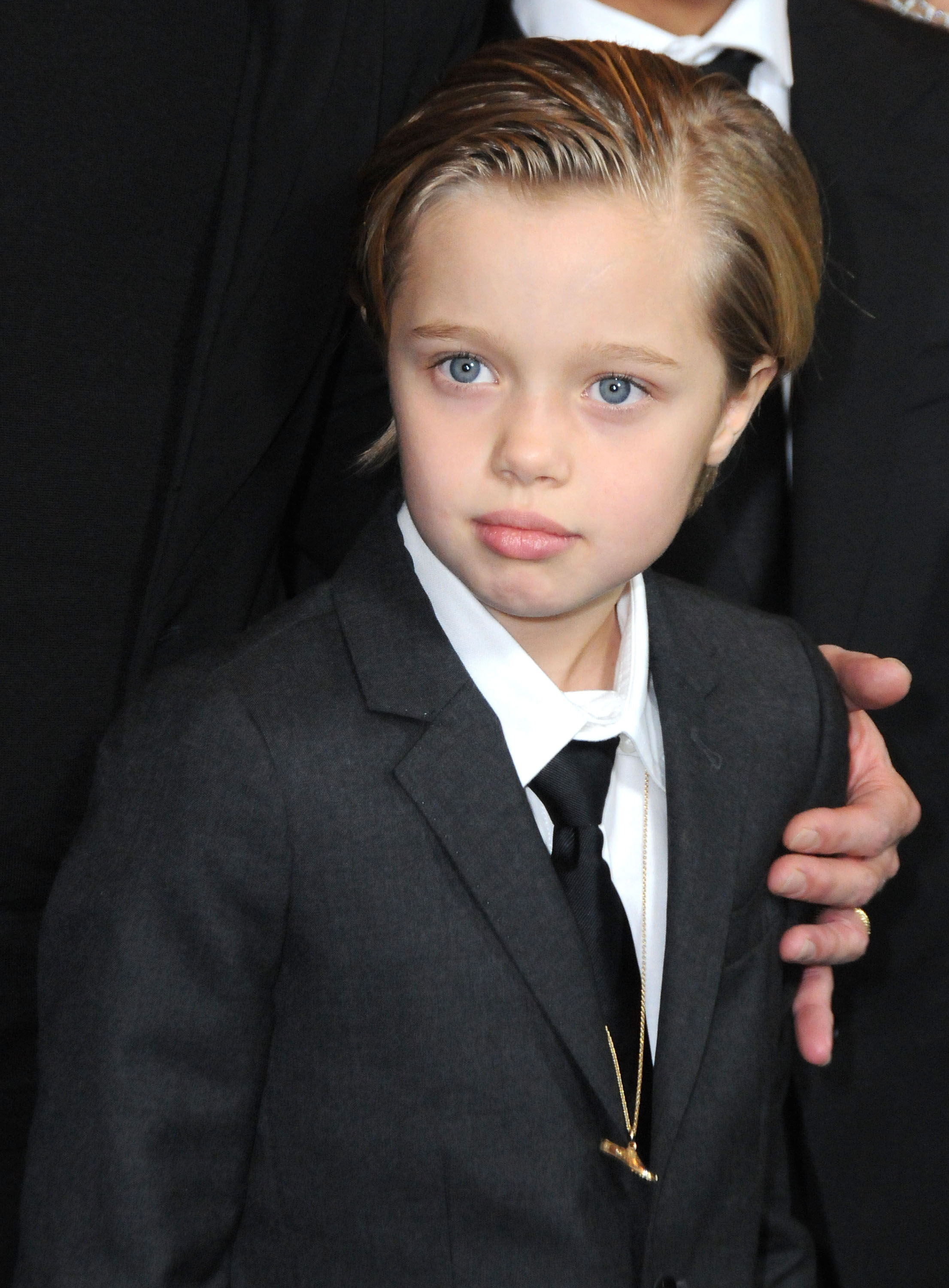 Shiloh Nouvel Jolie-Pitt at the premiere of 'Unbroken' at TCL Chinese Theatre IMAX on December 15, 2014 in Hollywood, California. | Source: Getty Images
The Jolie-Pitt family has created an unstifled environment for their kids to express themselves through their preferences, fashion, or careers. This is evident in Shiloh, and even when she was still a child, her parents let her be expressive.
Brad revealed that there was a time when she wanted to be called "John" in an interview with Oprah Winfrey when he talked about family life. He stated that the little one wanted to be called John or Peter, and her wish was respected.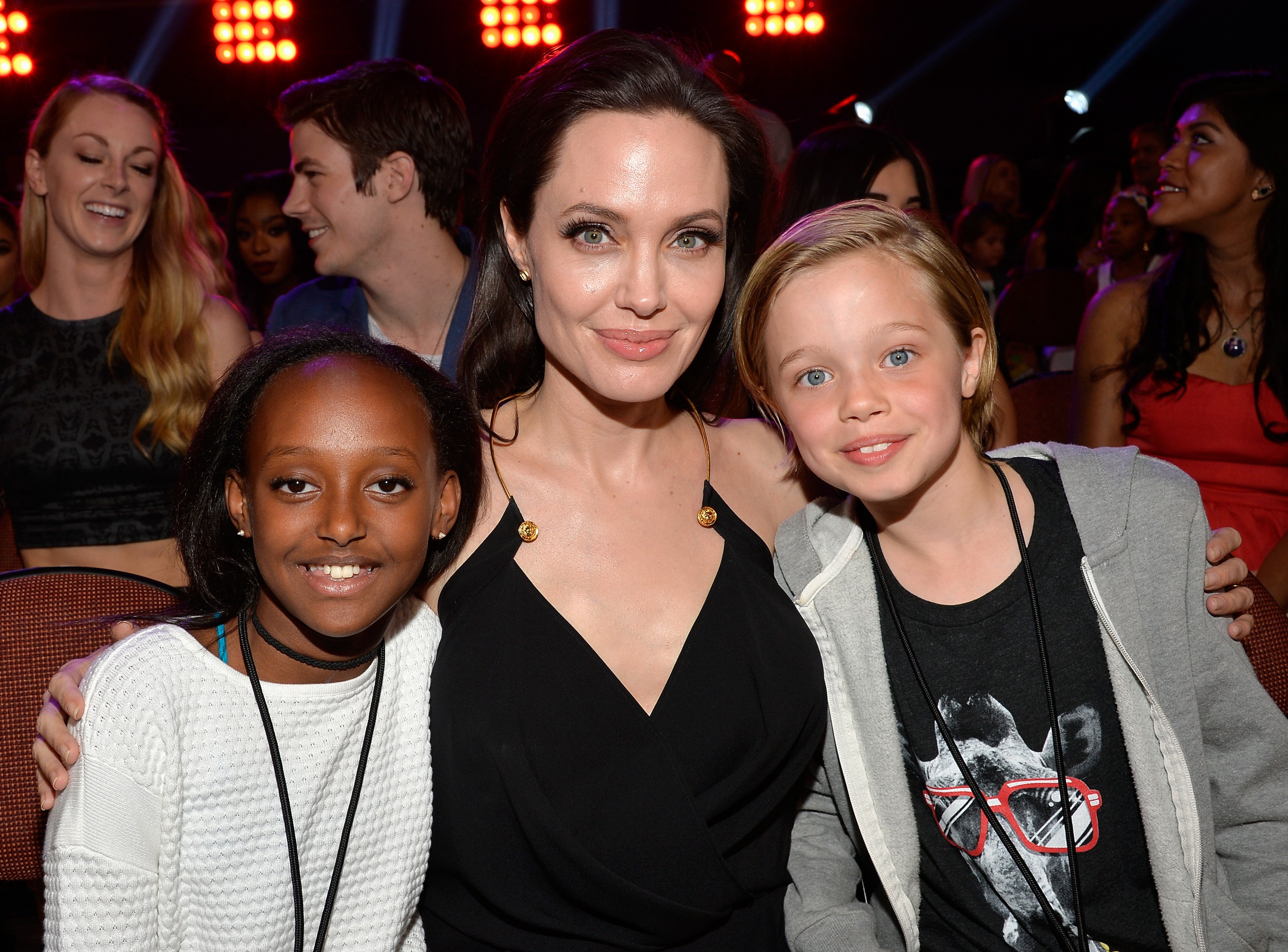 Actress/director Angelina Jolie with Zahara Marley Jolie-Pitt and Shiloh Nouvel Jolie-Pitt in the audience during Nickelodeon's 28th Annual Kids' Choice Awards held at The Forum on March 28, 2015 in Inglewood, California. | Source: Getty Images
He added that Shiloh's preference was "a Peter Pan thing." Aside from being called John, Shiloh also loved to dress like a boy. When speaking with Daily Mail, Jolie stated that the young girl also wanted to cut her hair like a boy.
The star mom noted that it was not for anyone to interpret because Shiloh was in a phase where she looked up to her big brothers' styles. However, she added that the little girl's exploration surprised the family, and they found it interesting.
The award-winning actress included a summary of what Shiloh's typical look was. She highlighted ties, jackets, and slacks. The doting mom stated that Shiloh "thinks she is one of her brothers."
Shiloh's Relationship with Her Parents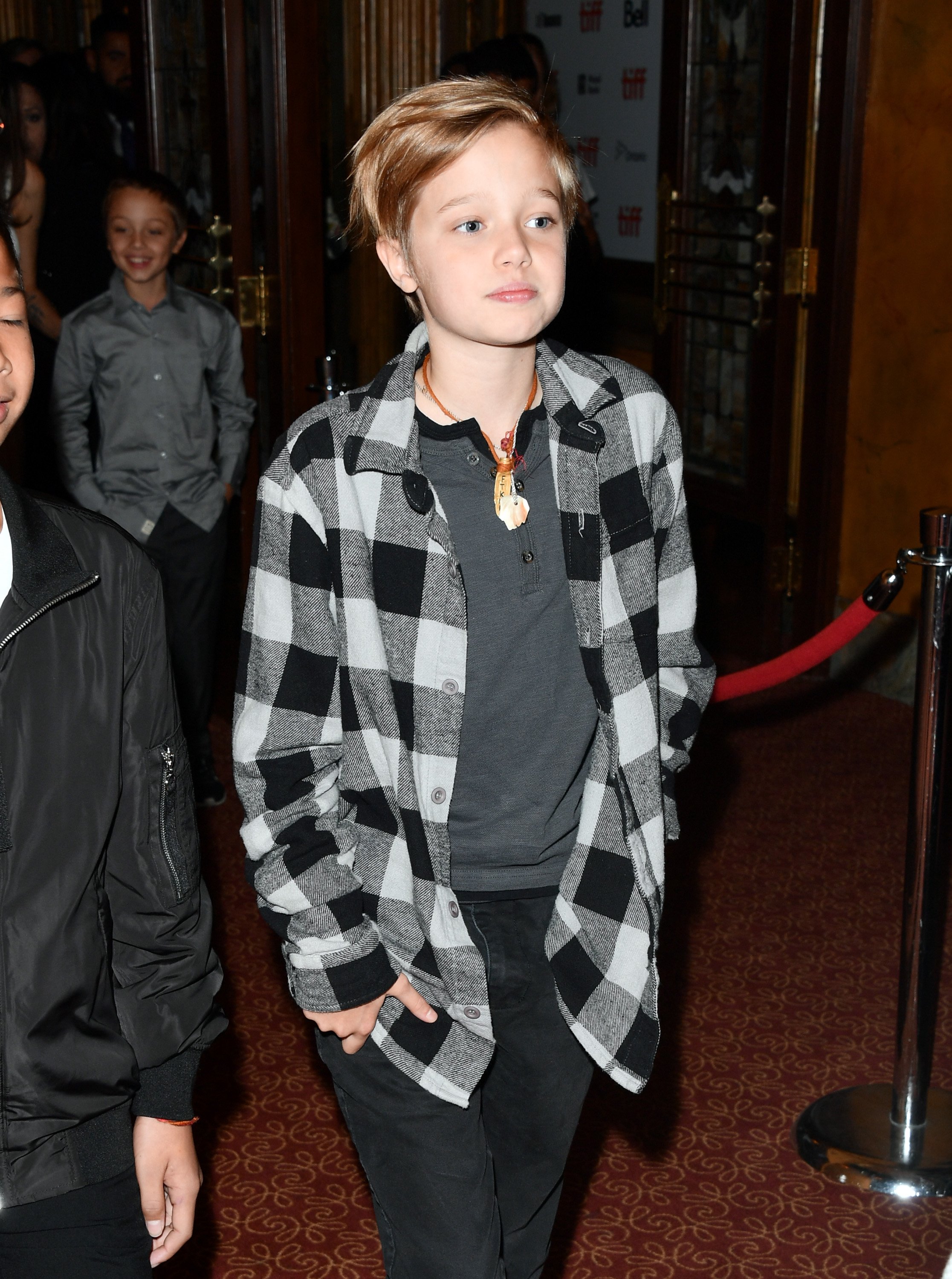 Shiloh Jolie-Pitt attends the "The Breadwinner" premiere during the 2017 Toronto International Film Festival at Winter Garden Theatre on September 10, 2017 in Toronto, Canada. | Source: Getty Images
Shiloh has undoubtedly grown into a delight for her parents, and even after the divorce, she stays close to them. Brad is incredibly proud of how she has stayed true to herself.
The couple had quite a tumultuous divorce period, but it didn't affect their relationship with the kids. An insider stated that Brad was proud of his daughter and "who she has become."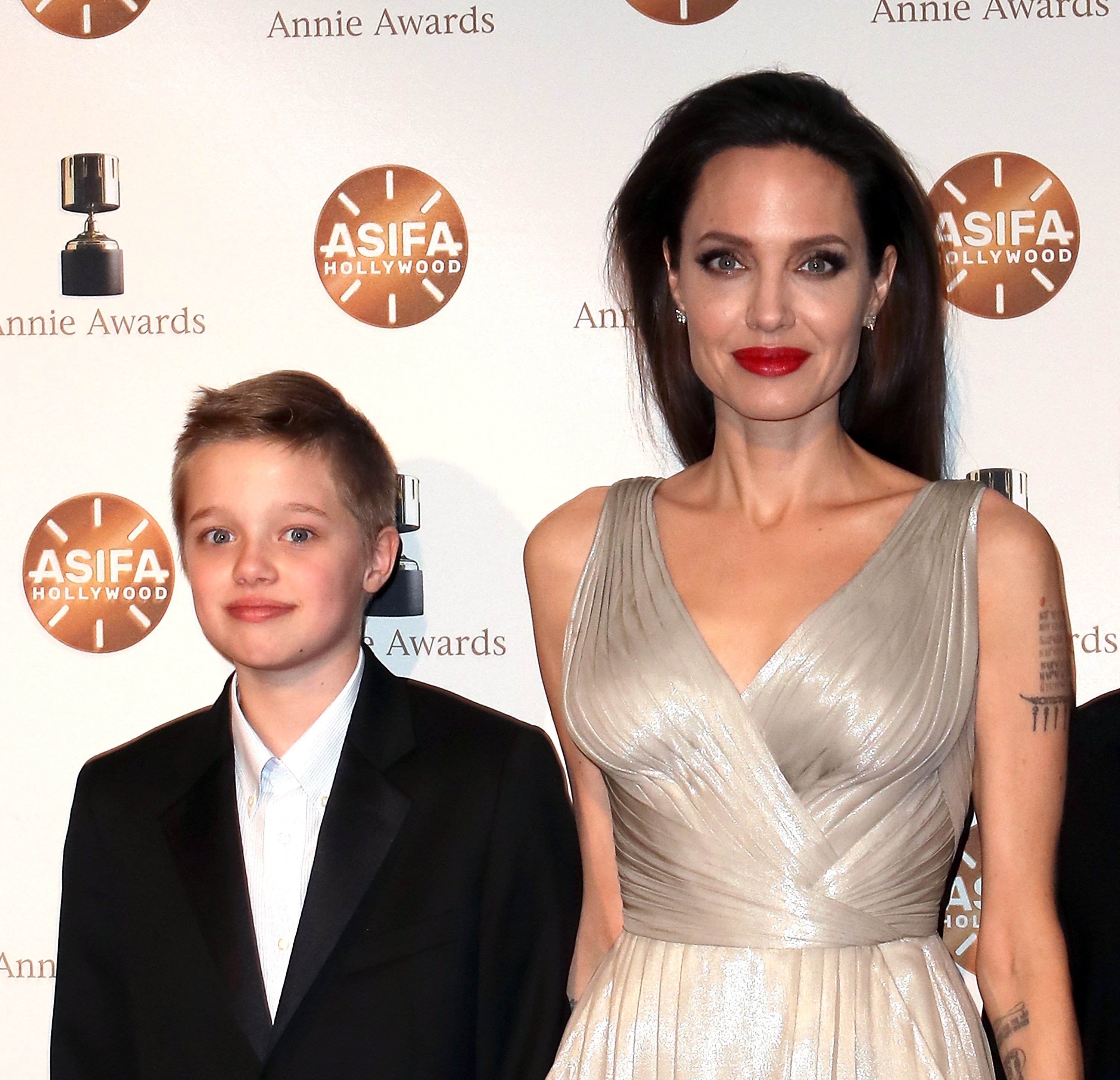 Shiloh Nouvel Jolie-Pitt and mother, actress Angelina Jolie, at the 45th Annual Annie Awards at Royce Hall on February 3, 2018 in Los Angeles, California. | Source: Getty Images
The insider further explained that the "Troy" star held fatherhood as the highest priority. For Brad, the kids are most important. He reportedly often tells his friends about how he learns so much from his brood.
Shiloh's Red Carpet Fashion Evolution
Maddox Jolie-Pitt, Vivienne Jolie-Pitt, Angelina Jolie, Zahara Jolie Pitt, Shiloh Jolie-Pitt, and Knox Jolie Pitt arrive at the Premiere of Marvel Studios' "Eternals" on October 18, 2021 in Hollywood, California. | Source: Getty Images
Fans witnessed a whole new look from Shiloh in 2021 when she attended the "Eternals" premiere in Los Angeles with her family. Shiloh's strong resemblance to Jolie resonated in a tank dress with ballet sandals.
This was in contrast to her previous red carpet appearances, where she stepped out in slacks. Shiloh looked lovely with her hair pulled back while posing with all her siblings except Pax, who had been absent.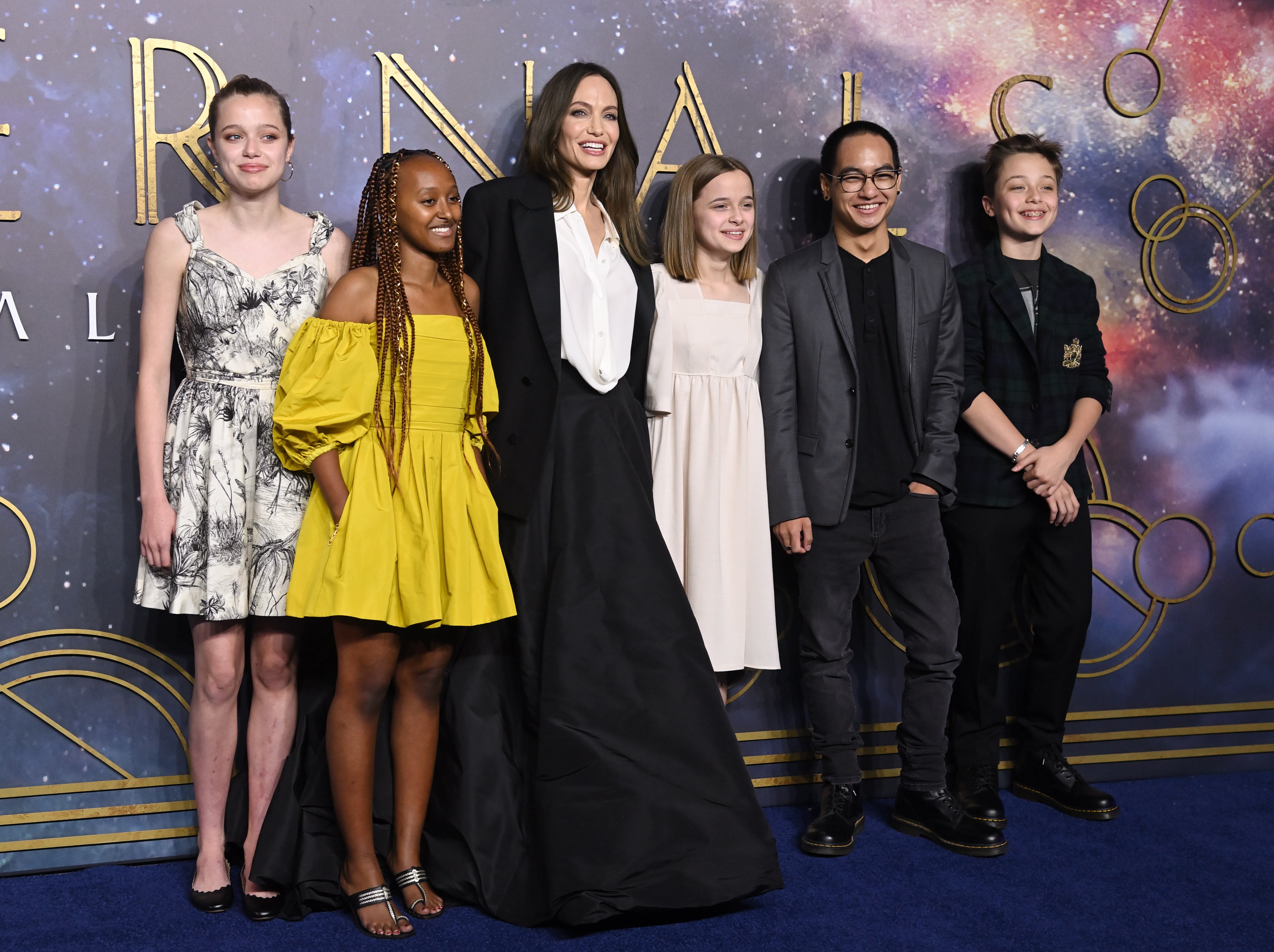 Shiloh Jolie-Pitt, Zahara Jolie-Pitt, Angelina Jolie, Vivienne Jolie-Pitt, Maddox Jolie-Pitt and Knox Jolie-Pitt attend the "The Eternals" UK Premiere at BFI IMAX Waterloo on October 27, 2021 in London, England. | Source: Getty Images
The spectacular dress was worn by Jolie in 2019 when she attended a global press conference for "Maleficent: Mistress of Evil." The star mom has described her daughter's style as androgynous.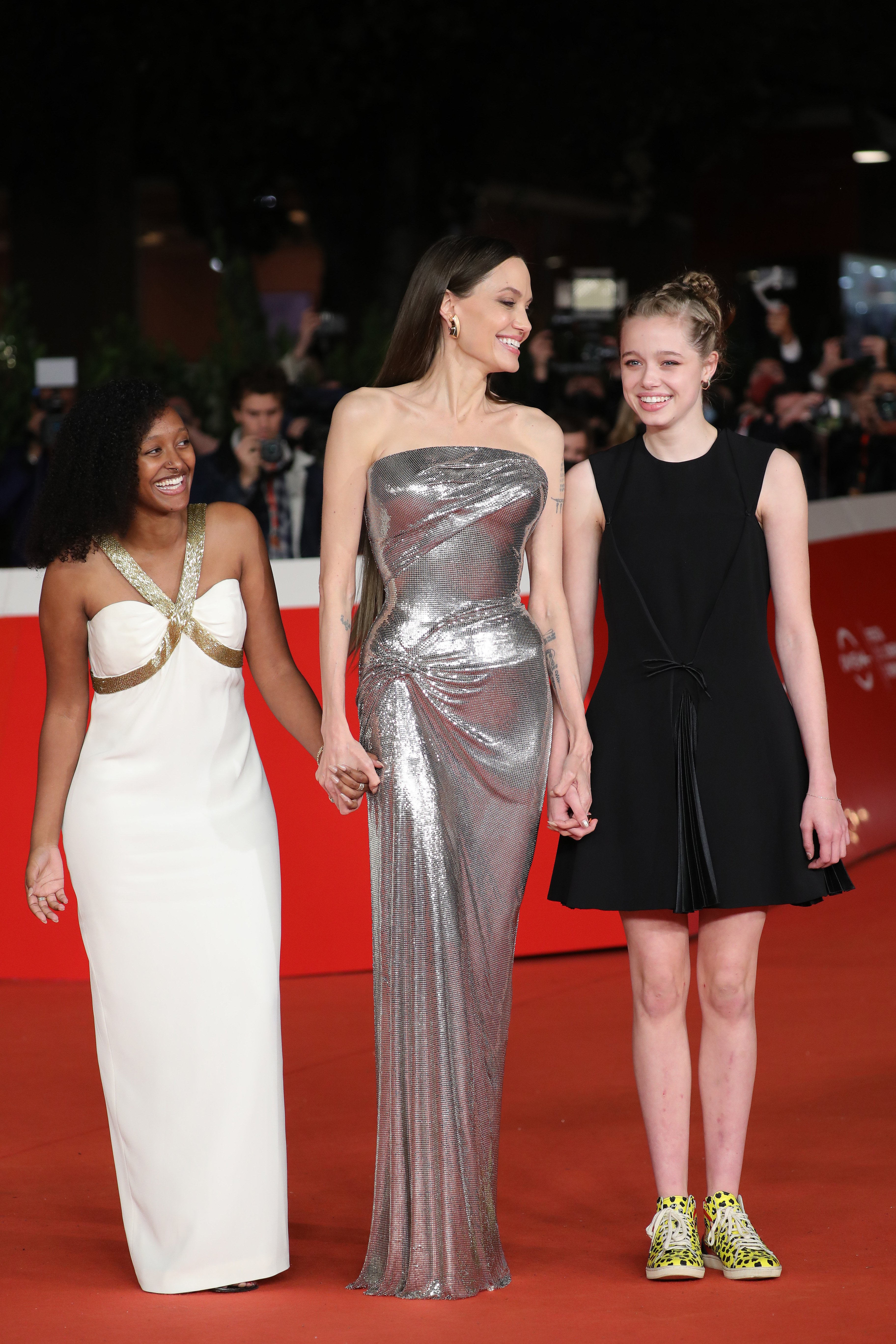 Zahara Marley Jolie-Pitt, Angelina Jolie, and Shiloh Jolie-Pitt walk the red carpet of the movie "Eternals" during the 16th Rome Film Fest 2021 on October 24, 2021 in Rome, Italy. | Source: Getty Images
The "Lara Croft" star coined a new word for Shiloh's style, describing it as "Montenegro." She noted that the teenager dresses like "a little dude," fancying tracksuits and regular suits.
Please fill in your e-mail so we can share with you our top stories!