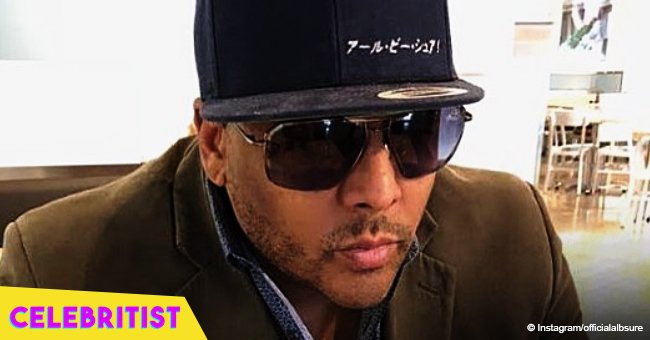 Remember '80s singer Al B Sure? He has a grown up son who is also an artist

Three-time Grammy-nominated Albert Joseph Brown III, best known as Al B. Sure! is 50 years old now and his three children are somehow related to the music, too.
Al B. was one of the new jack swing's sub-genre most popular romantic singers and producers during the late 80s and early 90s when he released "In Effect Mode" and "Private Times… and the Whole 9!"
The celebrity has three sons so far: Albert Brown IV, Devin, and Quincy. Albert IV is a singer who performs under the stage name Lil' B. Sure and Devin is a music producer and hip-hop artist known as Devin LOUD.
Quincy, however, is the most notable son of Al B. as he is both a singer and an actor known for the film "Brotherly Love."
Even though Al B. doesn't share that many photos of his children on social media regularly, he did so in April this year to urge his fans and followers to visit Quincy's YouTube channel.
In the image, Al B. was wearing a black suit covering a dark blue shirt and dark sunglasses as for the accessories. Quincy was right next to him wearing a Mickey Mouse hoodie and a dark grey cap.
As soon as the proud father uploaded that photo, his fans and followers took to the comment section to share their thoughts. One of them was Instagram user @beckywitdagudhair6073, who pointed out that the post was like a before and after picture of Al B. as they looked like twins.
While the image might suggest that the duo has always had a good relationship, the truth is different. I Love Old School Music reported that Al B. was not around when Quincy was young and that he considered that Puff Daddy was his father figure. Thankfully for the family, things have improved throughout the years.
ILOSM added that the fact that Al B. has not released any song recently doesn't mean he is not working. He has a nationally syndicated radio show on iheartradio.com called "Secret Slow Jams" as well as a late-night show titled "Secret Garden Radio" on Power 88.1 in Las Vegas.
Please fill in your e-mail so we can share with you our top stories!