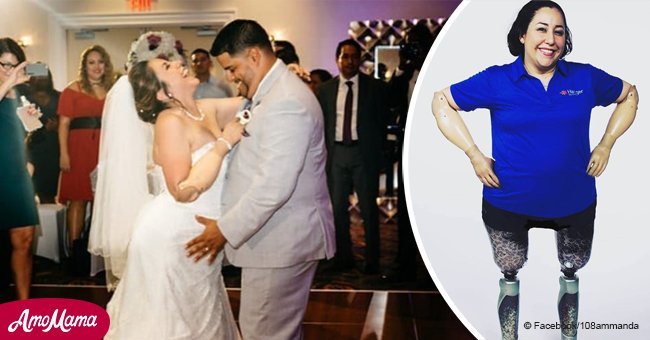 Woman without arms or legs beats all odds to dance at her own wedding

Amanda Flores lost all four limbs due to a severe illness, but she managed to walk down the aisle during her wedding.
With the help of prosthetics and sheer determination, Amanda was able to walk down the aisle like any bride, to the delight of her then husband-to-be, Frank Bordoy.
As reported by New York Times, Amanda was diagnosed with sepsis, which affected her different organs. She was comatose for two months.
Follow us on our Twitter account @amomama_usa to learn more and please scroll down to watch the video.
When blood stopped flowing to her limbs, her doctors feared she would die. Her limbs had to be amputated.
Doctors amputated her legs on January 2, 2018 and then her arms two weeks later.
Her fiancee, Frank, stuck with her throughout her ordeal.
"I just kept going... It was rough seeing the woman you love in the hospital, seeing her limbs go from purple to black," he said.
Amanda's parents didn't expect Frank to stay. They would understand if Frank left their daughter. So they told him that he could leave if he wanted to.
But it never crossed Frank's mind to leave.
"I said, 'Legally, on paper, we might not be married, but she's my wife. I'm not going to walk away from that," he said.
Frank and Amanda met in a restaurant in Alexandria, Virginia, in 2013. They decided to live together the following Christmas, along with their step-children.
Amanda said she tried to push Frank away. But instead of leaving her, he got drawn to her even closer.
He proposed to her. She said yes, but on one condition: he has to wait for the wedding until she could walk again using prosthetics.
Amanda wanted to walk down the aisle during her big day, just like any bride.
So after getting out of the hospital, Amanda took extra effort to learn how to walk using prosthetics.
Her effort paid off. On her wedding day, Amanda got off her wheelchair and walked down the aisle toward her waiting groom.
It was an emotional moment for every one in the venue, especially Frank and their families.
Frank said he loves Amanda all the same even when she walks on prosthetics.
"She's the one that has to remind me that she's not 'normal'. I don't see prosthetics. She's just a little different than others," he said.
Losing one's limbs, indeed, is not the end of everything. This, too, was shown by a seven-year-old girl who went on to become a model despite having her legs amputated.
Please fill in your e-mail so we can share with you our top stories!