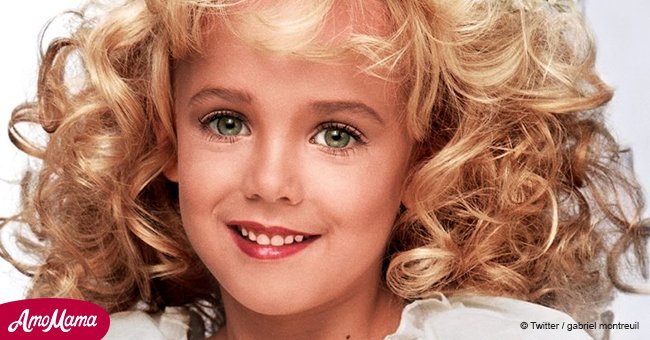 Horrific death of little beauty queen JonBenét Ramsey twenty years ago has taken a new turn

Twenty years ago, child beauty queen JonBenét Ramsey's death shocked the world. The unsolved case was revisited when her father sued a leading broadcasting company.
AmoMama shares the details of JonBenét Ramsey's death and her father's lawsuit against CBS. Her body was found in her parent's home on December 26, 1996.
Not many people will have forgotten that little Ramsey was only six years old when she was murdered. It still isn't known if the exact date of her death is December 25th or 26th. A ransom note was also found at the scene.
Read more on our Twitter account @amomama_usa.
Her parents reported her as missing December 26. Her body was found later that day by her father John in the basement of their family home.
It was suspected that her parents wrote the note and moved her body to the basement to cover up what had really happened. Two years later, the DA dismissed the notion due to lack of evidence.
In light of that, her parents were cleared of suspicion. Her brother, who was suspected of killing his sister in a fit of rage, was also cleared of suspicion.
On September 18 and 19, 2017, CBS aired a two-part documentary called "The Case of: JonBenét Ramsey," prompting her father to file a lawsuit against all parties involved.
Burke filed a similar lawsuit in 2015 for $750 million, for defamation of character. He said that the documentary aimed to wrongfully implicate him in her murder.
According to The Hollywood Reporter, the lawsuit said:
"The accusation that Burke Ramsey killed his sister was based on a compilation of lies, half-truths, manufactured information, and the intentional omission and avoidance of truthful information about the murder of JonBenét Ramsey"
The documentary postulates that Burke was under suspicion of killing his sister with a flashlight because she stole pieces of pineapple from a bowl.
It was suspected that JonBenét's parents staged the scene in the basement and planted the ransom note in an attempt to divert attention from Burke.
The author of "We Have Your Daughter," Paula Woodward, said that the claim was debunked when an autopsy report revealed traces of a fruit cocktail found in her stomach, not just pineapple.
Woodward also came to Burke's defense when people noted he was smiling during an interview when Dr. Phil asked him if he had murdered his sister.
Paula said she interviewed Burke twice and remembers saying to him that he had his mother's smile because he smiled a lot. He told her that he smiles when he is nervous.
Please fill in your e-mail so we can share with you our top stories!