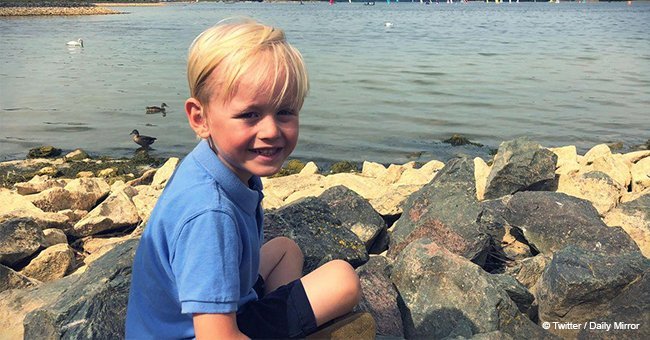 5-year-old boy severely traumatized after being bitten multiple times by teen girl at McDonald's
Charlie Vyse was pinned down in the middle of a fast-food restaurant by a girl, believed to be 13-years-old, who slapped, scratched and bit him, while the boy's mother tried to get the girl off her son.
According to the Mirror, the incident occurred at the McDonald's in Hampton near Peterborough, Cambs on July 26, 2018.
Jessica Collins, a student children's nurse, along with her son Charlie Vyse and daughter Elise went to have dinner at the restaurant on their way back from a family outing.
Read more on our Twitter account @amomama_usa.
Collins told the Mirror that Charlie was holding her had at the restaurant when she felt her son's hand slip out of hers.
She turned around and saw a teenage girl was on top of Charlie. The girl was scratching, biting, and hitting down Charlie's back, his legs, and bottom.
As she bent down to lift Charlie up, Collins said that the girl was shaking her head and biting his back. She added that her son was understandably hysterical by then.
Collins said that the girl was biting her son all the way down his body as she tried to drag him away from the girl and it was at least 30 seconds by the time she was able to pull him away.
Collins shared that during this ordeal, a woman, thought to be the teenager's mother, was asking her to stop and reportedly said, "I'm sorry, she's autistic," according to the Mirror.
The mother then rushed Charlie and Elise over to the toilets to hide, and that's when she found blood running down her crying son's back.
Collins also said that the girl allegedly tried to attack Charlie again when they were leaving McDonald's, and Charlie was left "completely traumatized."
She said that her son is now getting counseling and support because of the trauma he suffered because of the horrific incident and she hoped that her family could move on.
"I just think the whole thing has touched upon a subject that is delicate but that needs addressing."
Collins Vyse, Mirror, August 15, 2018.
Collins shared a post about the ordeal her family, particularly her son Charlie, went through on social media and the post has since been shared more than 7000 times.
Collins wrote in her post that she was upset and angry that her son had to go through something so disturbing and no one was being held responsible. She said that she was unable to assure her son that he will be protected and felt that she had failed him.
The mother said the incident was not investigated by the police initially because the girl who attacked her son Charlie had autism, but they have now started making enquires, according to The Sun.
Collins said that even though she sympathized with the teenage girl's mother, she felt that this incident should be spoken about otherwise people would think it is okay if their child gets caught up in a situation like her own.
Earlier in the year, a five-year-old Joseph 'Joe Clyde' Daniels who has autism, went missing from his home in Dickson, Tennessee on Wednesday, April 4, 2018, and police had been frantically searching for the little boy while his family claimed that he had just disappeared from their home.
Faith Family America reported that the authorities were looking into every tip and lead, hoping that it would lead them to Joseph and they could reunite him with his family.
Initially, police suspected that Joe Clyde was still alive because they had found his footprints near the family's home and search groups were formed, that consisted of hundreds of volunteers, to search for the child.
However, after further inspection, the Tennessee Bureau of Investigation announced that they had arrested Joseph Ray Daniels, Joe's father, in connection with the murder of his, Joe Clyde.
The 29-year-old Joseph Ray Daniels had been charged with criminal homicide, as police believe that he allegedly killed his son and hid the body for several days, according to a post on *Twitter by the Tennessee Bureau of Investigation.
Please fill in your e-mail so we can share with you our top stories!