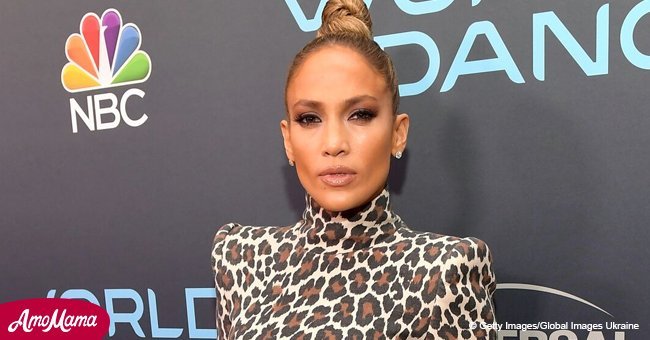 Jennifer Lopez shows off her hot dance moves during an interview on 'Tonight Show'

Jennifer Lopez was interviewed by Jimmy Fallon last Thursday and it was sensational. Fallon and Lopez broke out in dance several times while talking about the VMAs, her boyfriend, and her new film.
Opening up the interview, Fallon declared Lopez to be the "pioneer of dance breaks" in her music videos. He then informed her that, on cue, the two would be taking their own dance breaks at unexpected times throughout the interview.
Fallon began the interview by asking Lopez what her favorite music video of all time is. Lopez stated that "of all time," it's Janet Jackson's "The Pleasure Principle." She explains that "It's probably the reason I decided like I want to be a singer. I want to be a dancer. I can do this."
Soon enough, the air horn blows for Lopez and Fallon to get up and move.
Follow us on Twitter for more @amomama_usa.
Lopez was a bit taken aback at first before figuring out what the song is. Then for a few seconds, they dance to the singer's recent hit, "Dinero."
Fallon continues the interview with the "World of Dance" judge by talking about the MTV VMA's Video Vanguard Award she is to receive. Asked about her upcoming performance, Lopez says:
"I have to just be me. I have to just do what I do. We're going to try to bring the thunder and do our thing."
Source: YouTube
Right after, another dance break comes on. This time it's Lopez' "El Anillo." She and Fallon bust out some moves again.
But right after, Lopez declared that "that was a fail" and admits she didn't recognize her own song.
They went on with the interview, talking about summertime barbecues before another dance break cue interrupts.
The two head over to another platform and strut their stuff in front of fans amidst some smoke. Fallon then cuts to a break.
Lopez also spoke about her boyfriend Alex Rodriguez during the interview. Apparently, both of them have a thing for Lopez dancing on tables.
During a trip to Italy with her MLB legend boyfriend at the start of August, she shocked fans with a surprise table performance to "Let's Get Loud" when a restaurant unexpectedly put on the song.
The "Shades of Blue" actress also spoke about saying farewell to her character Harlee Santos during the show's season finale, which aired just last Sunday.
Lopez, who is 49, will star in the upcoming romantic comedy "Second Act" alongside Milo Ventimiglia.
Please fill in your e-mail so we can share with you our top stories!