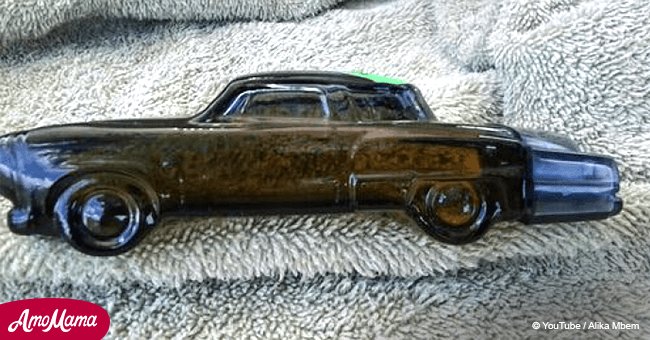 Here's the popular car bottle Avon sold men's cologne in back in the sixties

Back in the 1950s to 1970s, Avon Car Bottles were a huge hit among men. To this day, these bottles remain one of the world's favorite collectibles.
One of the more popular ones is the vintage 1970s Avon bottle featuring the Straight Eight race car.
The green decanter is adorned on the top with a big red circle with the number 8 printed in bold black lettering.
The name "straight eight" comes from an early style where the eight cylinders in the engine block were placed in a straight line along the crankcase.
Follow us on our Twitter account @amomama_usa to learn more.
Popular before World War I, this type of engine had been completely replaced by more modern engine designs by World War II.
Another popular bottle was the Avon 1951 Studebaker. Avon celebrates the 1951 version of the car with a 2-ounce bottle of Wild Country after-shave. This big car was perfect for the early 1950s, having lots of metal and chrome.
The Studebaker was an infamous car manufacturer that went out of business in the 1960s.
Avon Products also released a 1953 Ferrari car bottle for its Wild Country after-shave. Smaller than other cars at only five inches long, this decanter held two ounces of the aftershave.
Founded by David H. McConnell in 1886, Avon Products Inc. is a direct selling company in beauty, household, and personal care categories.
The fifth-largest beauty company, Avon has 6.4 million representatives and had annual sales of $5.7 billion worldwide in 2016.
The company sells products in over 100 countries, with Brazil and the United States as its largest markets.
Over the years, Avon has been catering more to women.
It has attracted loyal customers with its "Beauty for a Purpose" campaign.
"When you feel more beautiful, you see more beauty and create more beauty around you," it says on its website. "We know beauty empowers women to empower others. It's something we see every day with our Avon Representatives. They are our heroines and our role models. They are a catalyst for changing lives."
Please fill in your e-mail so we can share with you our top stories!