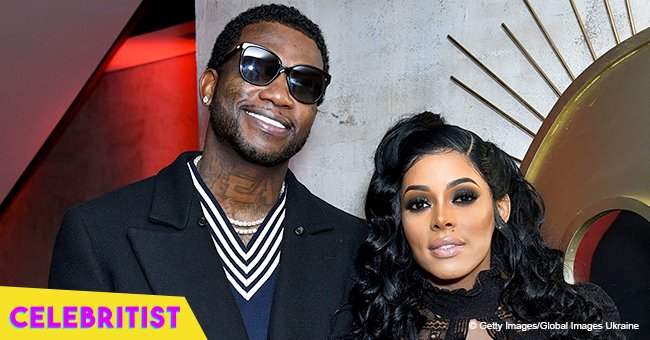 Keyshia Ka'oir steals the spotlight in shimmering see-through jumpsuit at MTV VMAs red carpet

Keyshia Ka'oir and Gucci Mane stunned at the red carpet of the 2018 MTV Video Music Awards, sporting some luxury designer wear. While the couple looked stunning together, it was Ka'oir who stole the show in a glittering see-through jumpsuit.
Gucci Mane's outfit garnered some mixed reviews from fans, especially since he wore the same Gucci suit that Sufjan Stevens wore during his 2018 Oscars appearance where he performed his nominated track "Mystery Of Love" off the soundtrack of the hit-movie "Call Me By Your Name." Because of this, his designer outfit looked like old news next to his beautiful wife Keyshia, who was a real head-turner while dressed in a shimmery jumpsuit that accented her curves.
Her nude outfit highlighted her stunning physique and was covered in silver bejeweled stripes that gave her suit a flash of elegance. On her arms and feet, white feathers gave a bit of a more eccentric feel to her jumpsuit, which she pulled off so well.
Gucci Mane, who goes by the name Radric Delantic Davis in real life, proposed to his beautiful girlfriend Keyshia at an Atlanta Hawks game back in 2016. They got married in 2017, and haven't gotten off their honeymoon phase since then. During the Awards Night, the lovely couple were seen holding hands with one another, and exchanging smiles and laughter in between.
They have also been spotted enjoying married life with one another on multiple occasions, including a recent trip to Miami, Florida, where they enoyed a trip to the "Happiest Place on Earth", Walt Disney World.
While fans are eager for Gucci and Keyshia to have children, their successful careers in their own industries have been their main focus for now. They have been making the most out of being a family of two, especially since these moments are those they will eventually cherish once their family starts to get bigger.
For now, they have no problem enjoying life as a couple, and are making the most out of their time together.
Please fill in your e-mail so we can share with you our top stories!