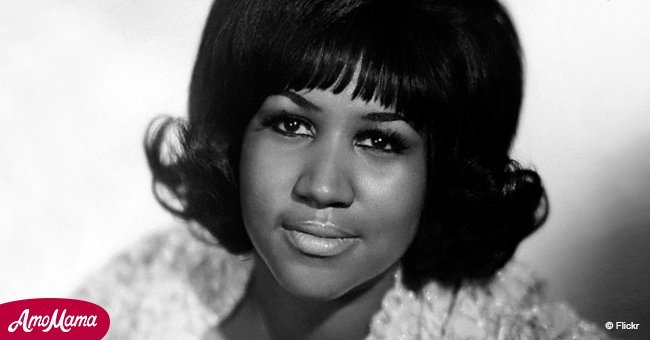 Aretha Franklin became a mother at 14 and married a pimp at 19
Aretha Franklin was one of those celebrities who liked to keep her life private. Details about her motherhood and her life as a mother are one of her closely guarded secrets.
According to a report from People, the artist, who died at the age of 76 on August 16, had four children with her first one having born when she was only 14 years of age.
David Ritz, the writer of multiple biographies on her life, explained to People that Franklin had a tough childhood. It was marred by the sad separation of her mother Barbara and father Clarence LaVaughn, Ritz wrote in his book.
Regarding her children, Franklin never indeed revealed who father her oldest child, 63-year-old Clarence. However, Ritz's book explained that the father was Donald Burke.
Follow us on Twitter to learn more.
The icon's sister, Erma, told in Ritz's book, Respect, that Franklin went "back to school" after giving birth to Clarence. There she became an excellent student who performed well in all her classes.
Her second son, Edward, was born in 1957, following which she dropped out of school to focus on her career in the music industry. Her sister stated that this was the decision that led to her life of "silent suffering."
Erma explained in the book, "We were part of that generation of young female singers who sacrificed time with our kids to attend to our careers. We did so knowingly. We also did so with heavy guilt."
It was Franklin's grandmother, "Big Mama," who took take of the two of her eldest children. The singer revealed that she wanted to get out and hang out with her friends, so she got the help from her grandmother, sister, and cousin to look after the child.
Franklin married Ted White at the age of 19 and gave birth to their son, Ted 'Teddy' White, Jr., who is now 54 years old. However, they divorced in 1969 following the reports of domestic abuse. The late singer's youngest son, Kecalf, was born in 1970. Today, he is 48 years of age.
The Queen of Soul passed away at the age of 76 due to pancreatic cancer. Her family expressed their grief at her loss and stated that they lost the "matriarch and rock" of the family, as reported by People.
Please fill in your e-mail so we can share with you our top stories!